Even if you are going to Croatia only to enjoy the gentle turquoise sea, cozy towns, clean mountain air, and the unique beauty of nature, you are unlikely to be able to resist the new big love in your life. We mean Croatian national cuisine. The lucky mixture of cultures and sweet temper of the Croats resulted in simple to prepare, but bright, juicy and outstandingly delicious dishes.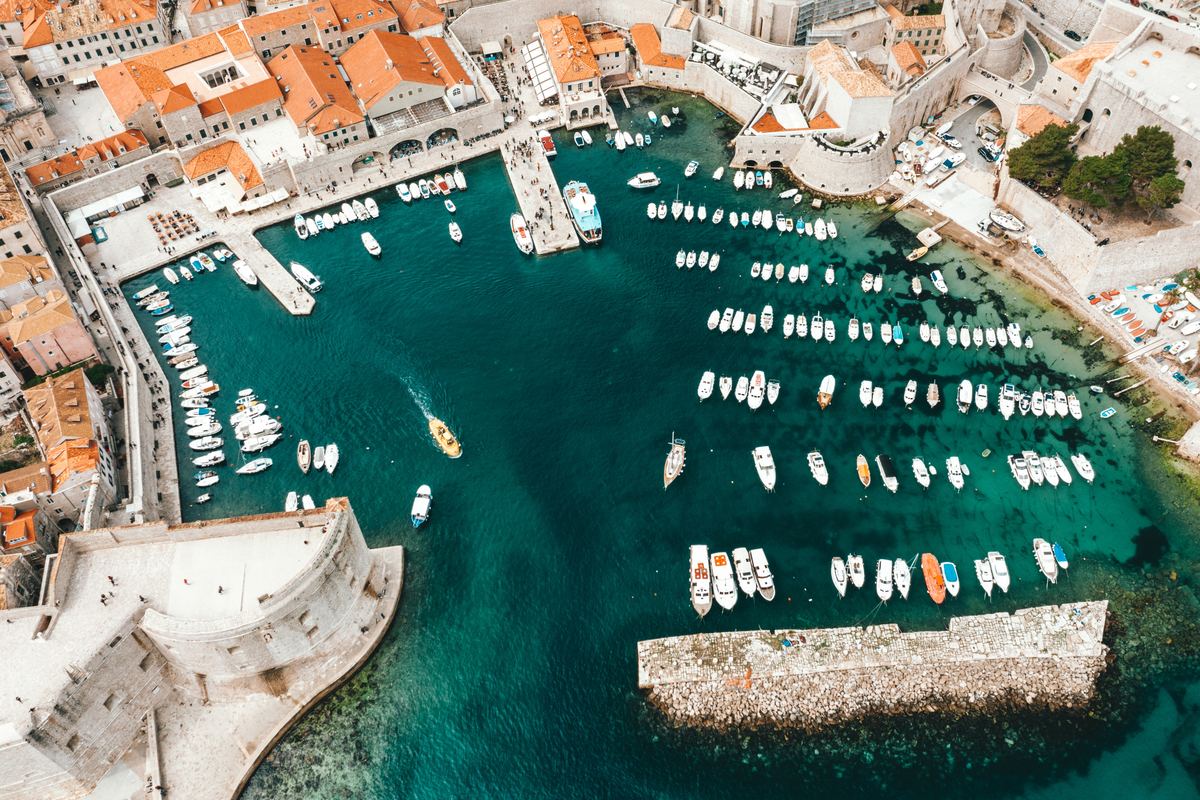 Incredible Croatia
The unique beauty of nature
The lucky mixture of cultures
Story One: Seafood
If a large part of the country is washed by aquatic-rich waters, no wonder that local people are excellently cooks and experts in seafood.
Ask any housewife or a merchant in the market, and they will not let you go until they read a whole lecture on all types of fish living in the Adriatic Sea and the ways you may cook them. Most likely, the scorpion fish will be called the best, the most expensive, and the most unusual. We know this fish as a ruff. This devil-looking fish with a terrible grin and incredibly tasty white meat is often on the menu of expensive Croatian restaurants. The same as the sunfish or the dory with its legendary coin-like stains on the flat sides.  This juicy fish with no small bones is just ideal both for an exquisite dinner and for children's menu. Croats will definitely include branzina (sea bass), dorado, and sole into high-class fish species.
But the chefs may give you the chance to choose the way they will cook it for you. If you tell na rostilju – you will get it grilled, na lešo – boiled with a selection of right spices and herbs, na pari – steamed, u pečici – baked in the oven, and pohani – fried breaded. But don't forget one of the favorite local sayings: "The fish swims three times: in the Adriatic Sea, in olive oil, and in the wine, it is washed down". So the tradition of the national cuisine is to add quite much of olive oil to the fish cooked by any way.
The fish swims three times: in the Adriatic Sea, in olive oil, and in the wine, it is washed down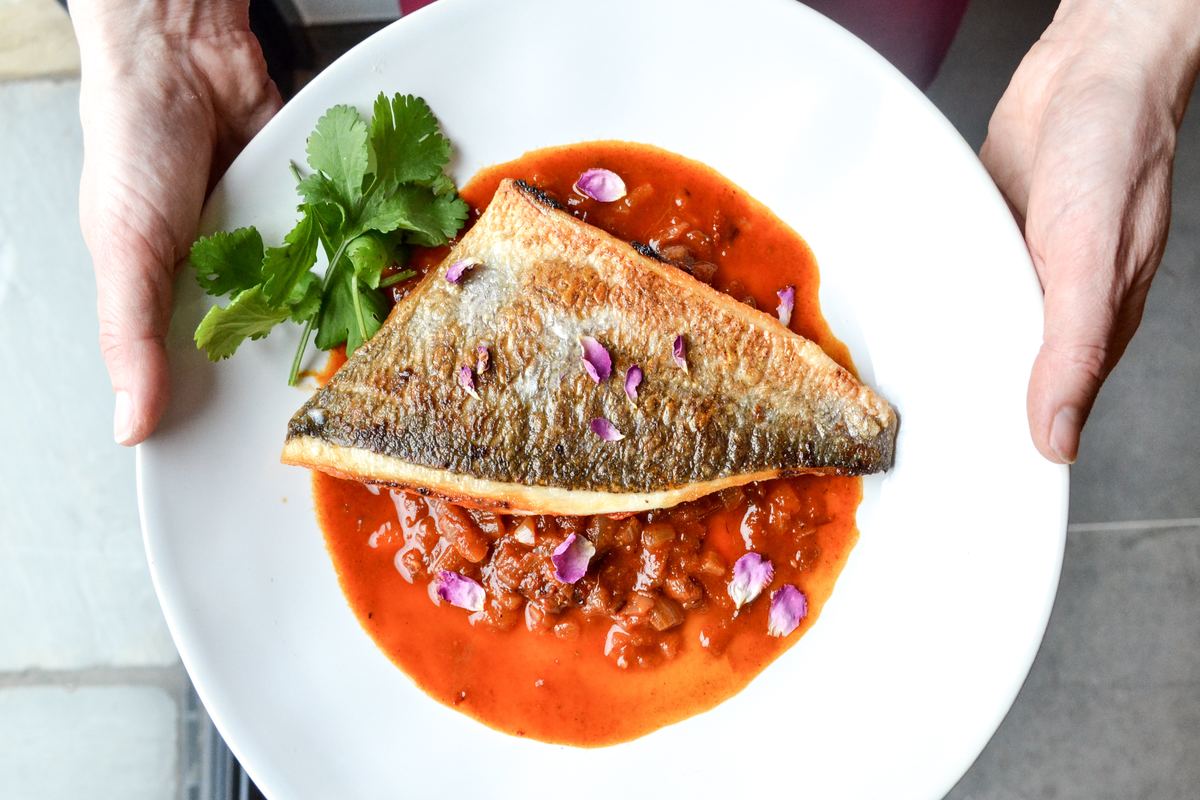 Local people are excellen cooks
Choose the way they will cook it for you
You will meet this not expensive but truly national and very tasty fish treat in many restaurants on the coast and in the fish market. Marinated inchuni (anchovies). Barely a mouthful snack and a lifetime flavour love! Although this is the case when every cook or housewife has his own secret ingredient in the marinade, ichunis a-la Croatia are always incredibly delicate and just melt in the mouth.
Another fish dish common in the country but plain at first glance is fried sardines. Croats have two secrets making this simple meal so popular and loved.  The first one is that sardines are quick-fried in boiling olive oil. The second one is always serving sardines with a glass of gemischt, young, white dry wine, slightly diluted with saltish mineral water. Even those who find the description of such a taste set unacceptable at first, eventually recall this uncomplicated meal with admiration.
But the Adriatic Sea is rich not only with fish! So there often are oysters (here they prefer to eat raw oysters), scallops, and mussels in the dinner table of local residents and guests. Mussels are actively used when cooking risotto and pasta. But mussels with the popular buzara sauce are especially popular among tourists. The sauce is made on the basis of white wine and olive oil, generously adding garlic, parsley, and some rusk crumbs. Throughout the summer you can always find a fishing festival in one of the coastal settlements where guests are served mussels in this sauce. Another favorite food among tourists at such festivals is deep-fried squid. Simple, but very tasty!
The Adriatic Sea is rich not only with fish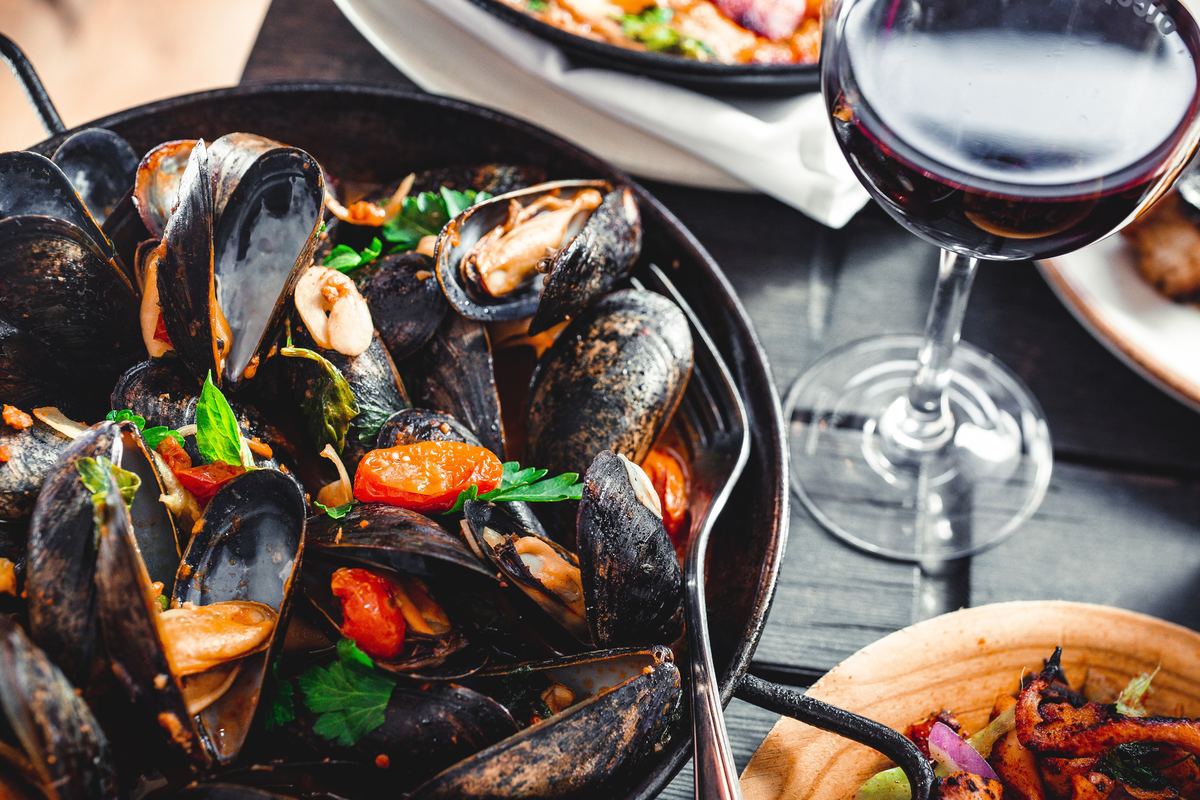 Mussels with the popular buzara sauce
The Adriatic Sea is rich not only with fish
Buzara is loved and almost universal in the coastal cuisine of Croatia.  Be sure to try another traditional flavour: a portion of škampi, sea crayfish, cooked "on buzara". The combination of sweet škampi meat and spicy wine sauce is so original that this dish has become something of a calling card in some expensive Istrian restaurants.
All coastal restaurants have on the menu the most country-famous octopus salad. In some regions of Croatia, the octopus is "conjured" for a long time before it is served: to make it more tender, it is kept in the refrigerator for a week or beaten off with a wooden rolling pin, and then boiled for a long time. Chefs in other regions of the country laugh at these "shaman dances" and consider that it's enough to dip the octopus in boiling water for a while. In any case, octopus in the served salad can neighbour upon boiled potatoes, fresh vegetables, and greens.  This is probably the brightest, easiest, and always tasty dish on the coast. The only thing to remain is to compete in the beauty of its serving.
All coastal restaurants have on the menu famous octopus salad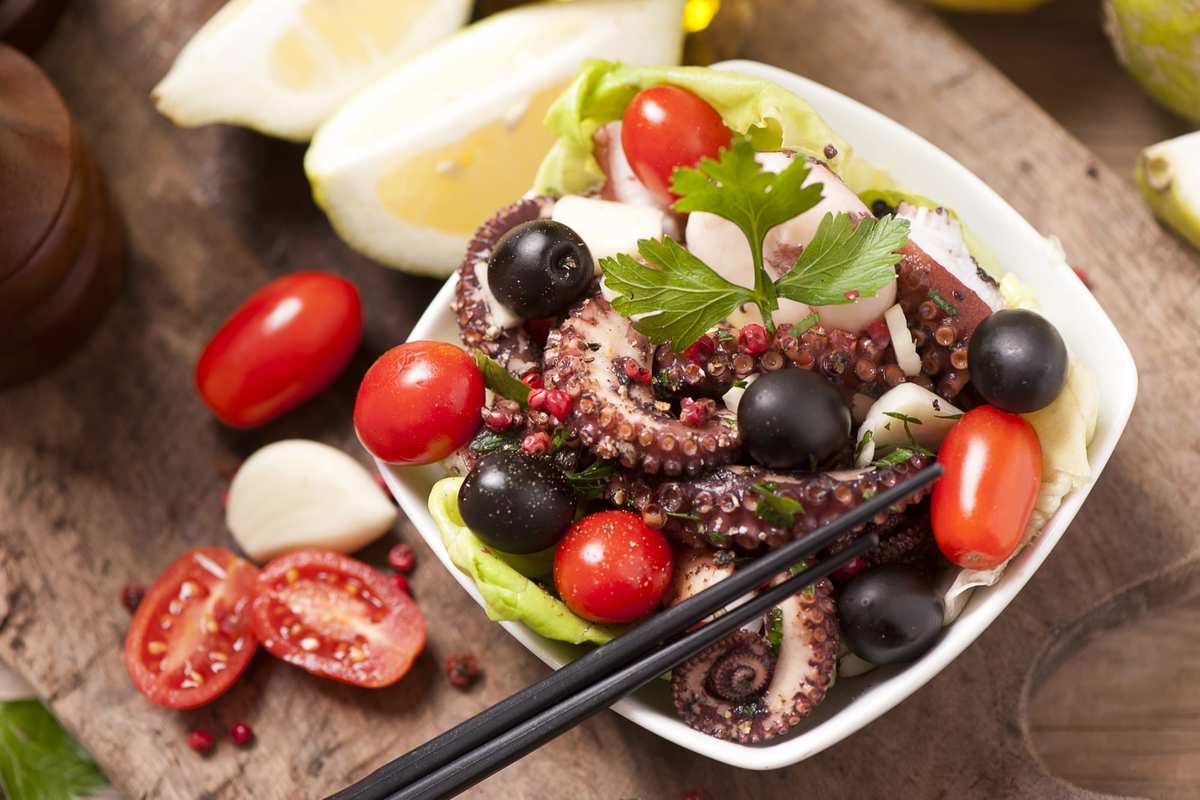 Octopus salad
Croatian oysters
Another traditional Dalmatian food attracts attention by its sullen colors.  Black risotto. To add some color, it is sometimes served in a large sink. The principle of cooking is simple: they add cuttlefish ink, squid or shell-fish to the traditional risotto. The specific smell and look sometimes repel tourists from trying and loving this unusual black something. But the locals enjoy eating it from childhood, treat guests at weddings and family celebrations and advertise among tourists in every way describing great benefits of the ingredients of black risotto for the human body.
They add cuttlefish ink, squid or shell-fish to the traditional risotto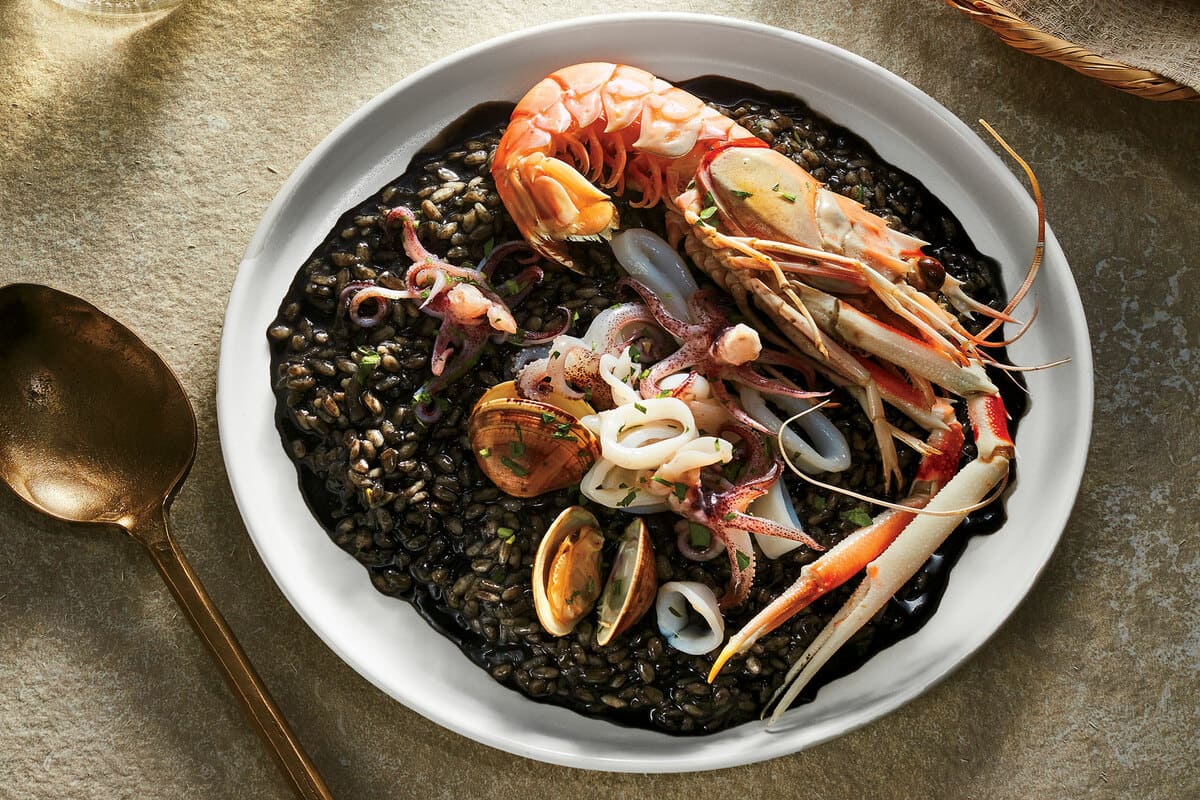 Black risotto
Story Two: Meat, Eternal Truth
You will easily understand that you are a few kilometers away from the Croatian coast just looking at the menu of any restaurant: the number of meat dishes increases dramatically.
Pašticada, nourishing beef stew, is always popular with tasty food lovers. Its recipe harmoniously combine the whole history of this area! Food traditions of the ancient Greeks, Romans and Byzantines successfully united with the taste habits of the Slavs, who migrated from behind the mountains and brought their meat cuisine with them. All that resulted in the sauce of red wine, garlic, prunes, onions, and several types of fragrant mountain herbs, where beef is soaked to make pašticada.
And the next dish is not just national. It can be called iconic! Ćevapi or ćevapčići, small grilled sausages of minced meat with seasoning. The dish is served in jollop and is just perfect for friendly family gatherings.  When you cook ćevapi, the flavour is spread throughout the area, and only strictest vegetarians can resist.
If you are a fan of jerked meat and are happy to see Spanish jamon, an Italian prosciutto or a French jeanbone on your table, you will surely like Croatian pršut. The taste is simply divine! They smoke pork ham in Dalmatia and just dry in the sea air in Istria. In any case, it makes a wonderful snack in combination with local sheep cheese and olives!
If you want to find real meat exotic in Croatia, you should go to the northern part of the country, to the historic district of Gorski Kotar. Here you can try dishes of on bear, brawn, or venison.
Food traditions of the ancient Greeks, Romans and Byzantines successfully united with the taste habits of the Slavs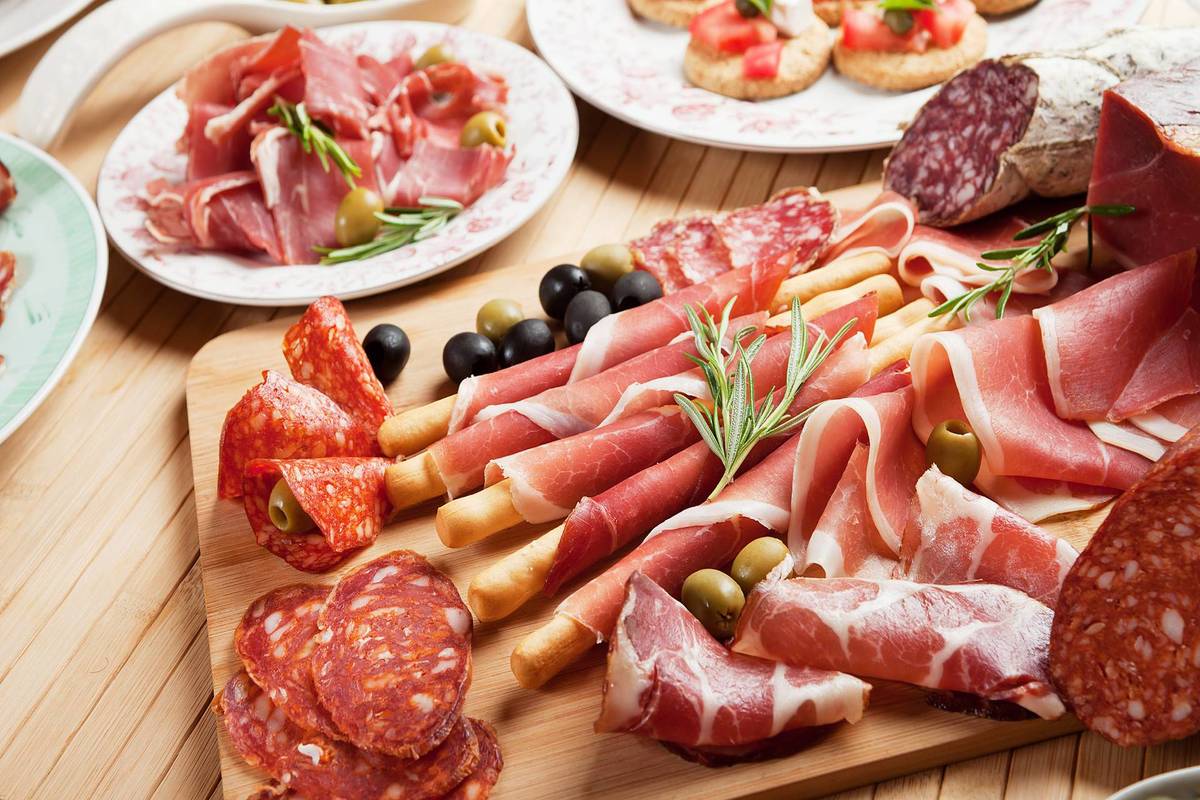 Croatian pršut
Croatian meat cuisine
Away from the coast the number of meat dishes increases
Story Three: Vegetable
Croatia has something to suggest not only to people who love meat or seafood! For example, they have a festival of Wild Asparagus every spring in Istria. Every restaurant at this time serves omelets, soups, pasta, risotto, and even desserts with this delicacy. The sprouts of wild asparagus are harvested in the forest in remote places. And its taste is completely different from that of the usually cultivated asparagus.
Istria Peninsula will be a paradise for gourmets who are not indifferent to black and white truffles. It is here that these local specialties are "mined" using specially trained dogs.  Several Istrian enterprises making truffle products welcome visitors to see their facilities. The arrange not only tastings of cheese, salami, pasta and sauces with truffle flavor, but also demonstration performances of hunters and their dogs and show the biggest catch of the season – king truffle of record weight. To bring tartufata (mushroom pasta with truffle) as an Istrian souvenir is much better than a fridge magnet.
They have a festival of Wild Asparagus every spring in Istria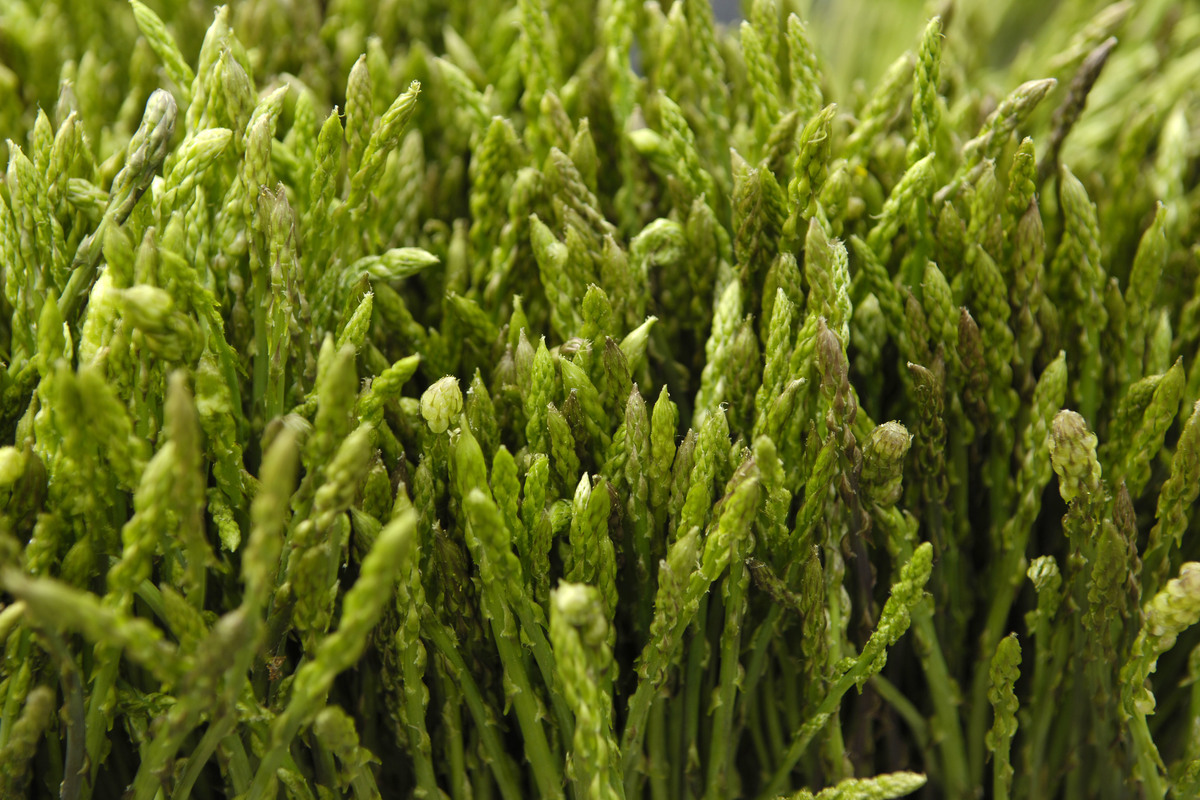 Wild Asparagus
Festival of Wild Asparagus in Istria
Truffles
Istria will be a paradise for gourmets
Croatian vegetable dishes
We can say for sure that Croatian traditional cuisine has really succeeded not only in preserving and improving its own taste traditions but also managed not to get lost against the background of its culinary neighbors.