Croatia is not only 1,800 km coastline but also stunning mountain landscapes, picturesque forests, and rocky mazes. Go hiking in the wild and less-examined part of this "beach country" with our guide.
Northern Velebit
Careless holidaymakers sunbathing at Dalmatian resorts may not even suspect that such majestic beauty is nearby. Northern Velebit is just an ideal place for those who want to escape from the bustling crowd. Tourist rarely visits this intriguing mountain range with a harsh landscape and alpine trees. But this is a real mistake! There are not so many places in the world that have survived in the state of nature preserving the diversity of flora and fauna.

It is not difficult to overcome the Velebit Mountains as there are many well-laid trails. If you suddenly want to travel through the entire mountain range, such a journey will take more than a week and you will stop for rest and sleep in the mountain huts. Of course, you can have not so extreme hikes. For example, you will need just about three hours to travel from Oltari to Krasno. The hike along Premužićeva staza is also considered easy. No wonder this route is recommended to people unprepared for climbing. We like this trail because you can see the most picturesque landscapes of the mountain range on the way.

Don't miss a chance to visit the Botanical Gardens at Zavižan top where, incidentally, you can find rather instagramable views. But if you are in the Northern Velebit, it's a sin not to climb one of its peaks. For example, Hajdučki kuk and Rožanski kuk with their famous solutional caves. By the way, one of them, Luka cave, is the eighth deep in the world. 
Northern Velebit is just an ideal place for those who want to escape from the bustling crowd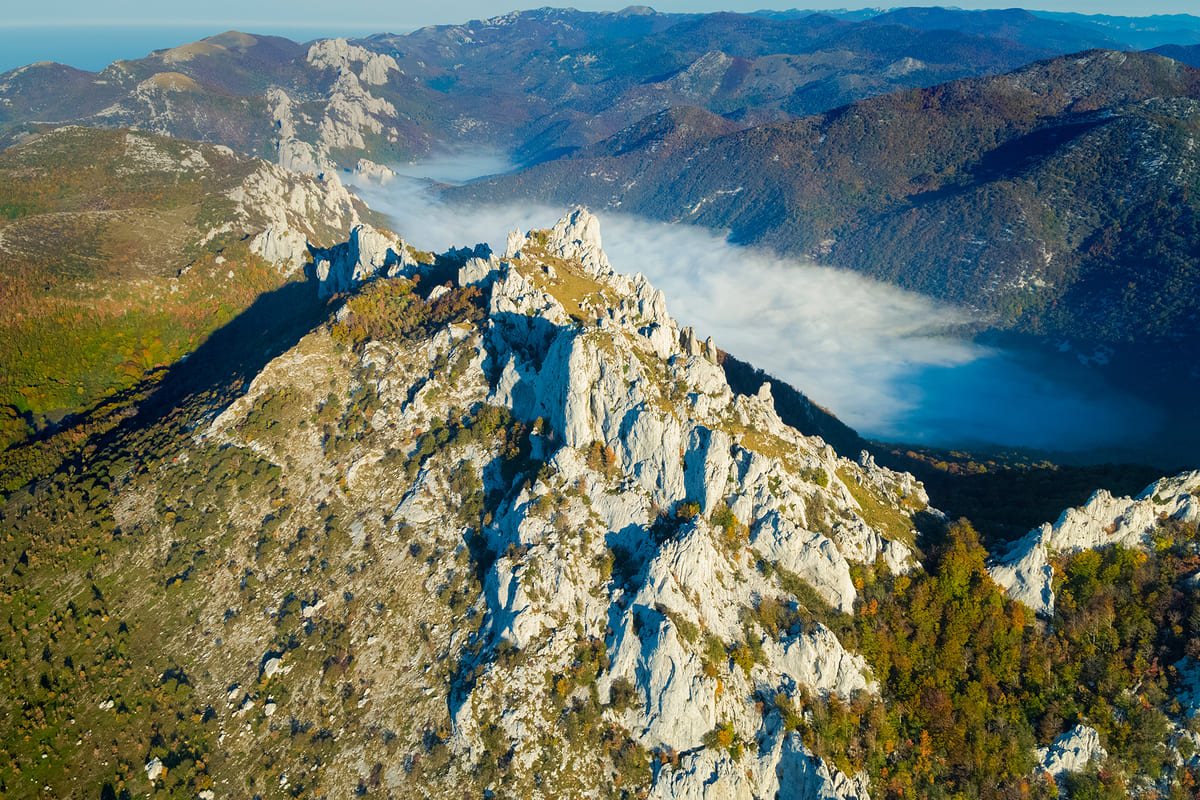 Northern Velebit
Well-laid trails
The majestic beauty of Velebit
An ideal place to escape
Risnjak National Park
Risnjak is located at the intersection of the Balkans and the Alps, in Gorski Kotar, 15 kilometers from popular beach resorts. The park was named after lynx, although not only wild cats live here. Of all the blessings of civilization, the park may suggest only a small hotel and restaurant. All other park gives you a chance to admire the untouched nature.

You can hardly find such a diversity of landscapes anywhere else. Here you can find gray mountains, pine forests, and lush meadows covered with mountain flowers. That's why, they developed various routes for tourists here, where you can either walk or ride a bicycle, admiring nature and enjoying the silence. If you suddenly decide to become a summiteer, climb Snežnik (1,506 m) or  Veliki Risnjak (1,528 m). The second ascend (Veliki Risnjak) will take three hours and at the end of the route, you will get to the Schlosser hut, from where you will be able to enjoy many kilometers of stunning views. By the way, they borrowed the idea on Snežnik and also built a small hut there. You can explore a different route, the 4 km trail from Crni Lug to Risnjak or take a shorter walk around the lakes. We mentioned only several of the possible hikes.
The park gives you a chance to admire the untouched nature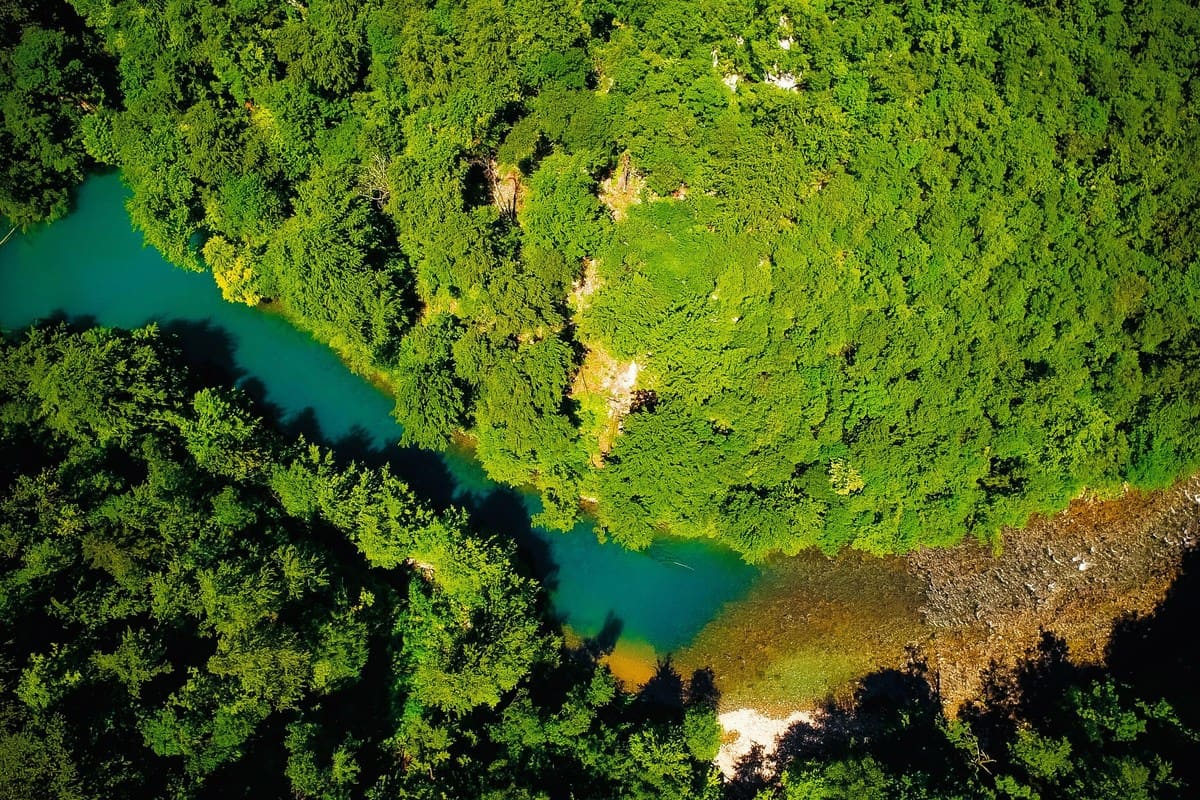 Risnjak National Park
Diversity of landscapes
Untouched nature
Various routes
Učka Mountain
This is perhaps one of the most beautiful mountain ranges in Croatia. Chestnut woods, Vojak Peak with a dizzying view of Istria, the Gulf of Trieste, the Alps and a scattering of islands. The local meadows and forests strongly resemble the landscapes of Tuscany.

Guides can offer you many options for walking taking both just an hour or half a day. Whichever you choose, it will always be healthy as the park is known for its special microclimate, which is very useful for breathing. To fully enjoy the beauty of Učka, we advise you to take a walk along the Plas route through the beech forest. The route takes about two kilometers, but it's really worth it! You will meet viewing platforms offering stunning views of the Alps and islands. You may be lucky to see the legendary Alpine flower, edelweiss, a symbol of hard-to-reach places and high peaks…

More experienced tourists can try the seven-hour route from Trebišć to Perun. You better have a guide and learn a lot about the history, beliefs, and customs of the ancient Slavs.  After all, even the name Perun itself says a lot. We recommend to choose the route called Slap and to see the waterfall "falling" into the canyon and a plantation of sweet chestnuts while walking through the majestic oak forests. 
One of the most beautiful Croatian's mountain ranges with chestnut woods, Vojak Peak with a dizzying view of Istria, the Gulf of Trieste, the Alps and a scattering of islands
Učka Mountain
View points
Beautiful mountain range
Beauty of Učka
Paklenica
The wild beauty of this national park is represented by impressive peaks, foothills densely covered with pine trees and two canyons: Mala Paklenica and Velika Paklenica. Nature here is so wonderful that filmmakers from Germany, France, and Italy made here films about Winnetou, the Chief of the Apache. The fans of the famous series can find pointers showing the filming sites.

Be sure, the routes here will satisfy any tourists: those who love to admire the beauty of the mountains and thrill-seekers; those who prefer easy routes and those who like something more difficult. It is a real paradise for climbers of all kinds. You can challenge the highest peaks of Paklenica: – Vaganski Vrh (1,757 m) and Sveto Brdo (1,753 m).

Of course, one cannot visit Paklenica and miss seeing its legendary solutional caves. By the way, they were enlarged and strengthened, and some were equipped as a bunker, where Joseph Broz Tito was going to hide in the event of a nuclear war. Hiking routes along Mala Paklenica and Velika Paklenica canyons near the town of Starigrad are not less interesting. And if you get tired of the mountains, you can return to Starigrad and take a walk, take some pictures against the background of the old watchtower, or sunbathe on the beach.
Be sure, the routes here will satisfy any tourists: those who love to admire the beauty of the mountains and thrill-seekers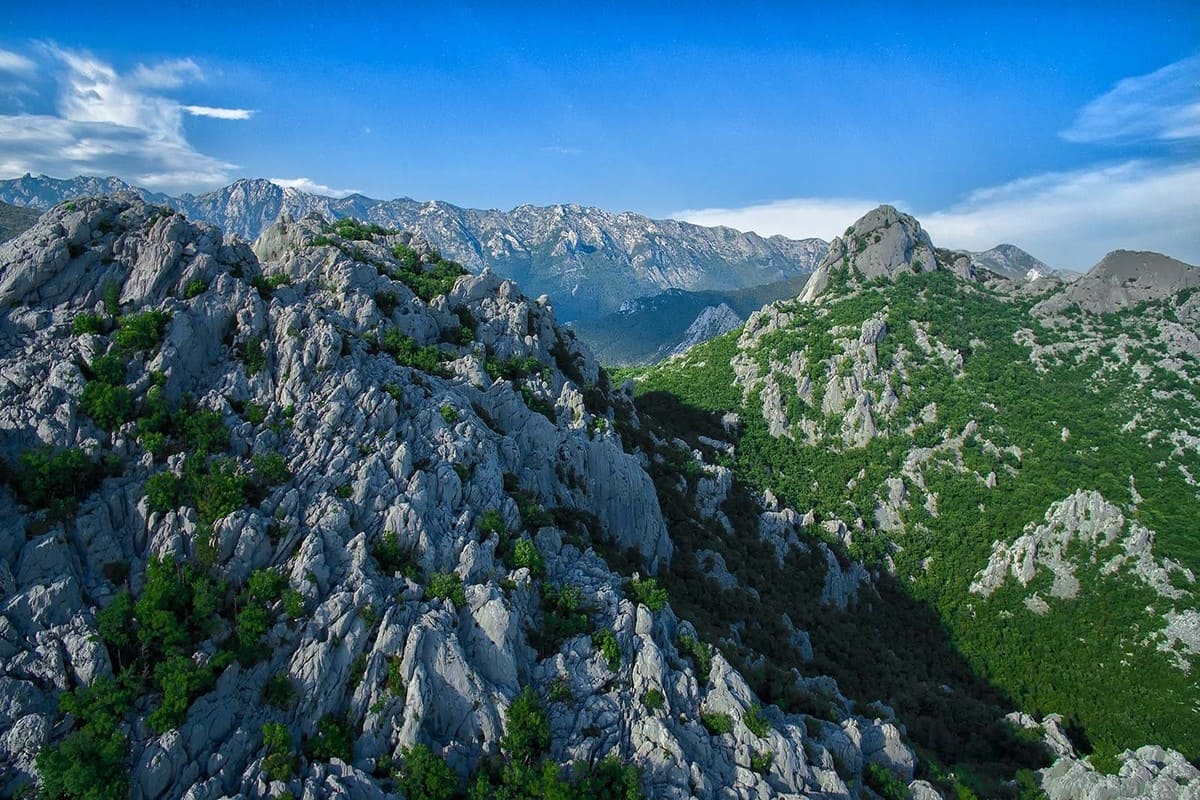 Paklenica
Diversity of routes
Stunning views
Impressive peaks