This island is one of the most beautiful spots on Earth. Emerald rice terraces, the jungle in the pre-dawn haze, volcanoes, incredible temples, unique culture, surfing, the ocean, and tropical cocktails overlooking the sunset: you will stay in love here all the time, both with life and your soulmate.

We selected several romantic places in Bali where you can spend Valentine's Day. Although, if you wish, every day on the island can be turned into February 14th. Here are some places you can have a great romantic time together.




1. The Seaside Town of Candidasa
Lotus lagoon, view of the volcano, and a mountain temple.
Couples who love the privacy and beautiful nature will love this quiet resort town in the east of the island with a minimum number of tourists. Not only relaxing near the ocean attract visitors here but also the

Lotus Lagoon. Go there in the early morning when the flowers are just opening. Lotus aroma complements the beauty of the lagoon itself!
Pura Gumang Mountain Temple. Pura Gumang is a gorgeous place with spectacular views of the ocean and the jungle. It is ideal for those who are in love.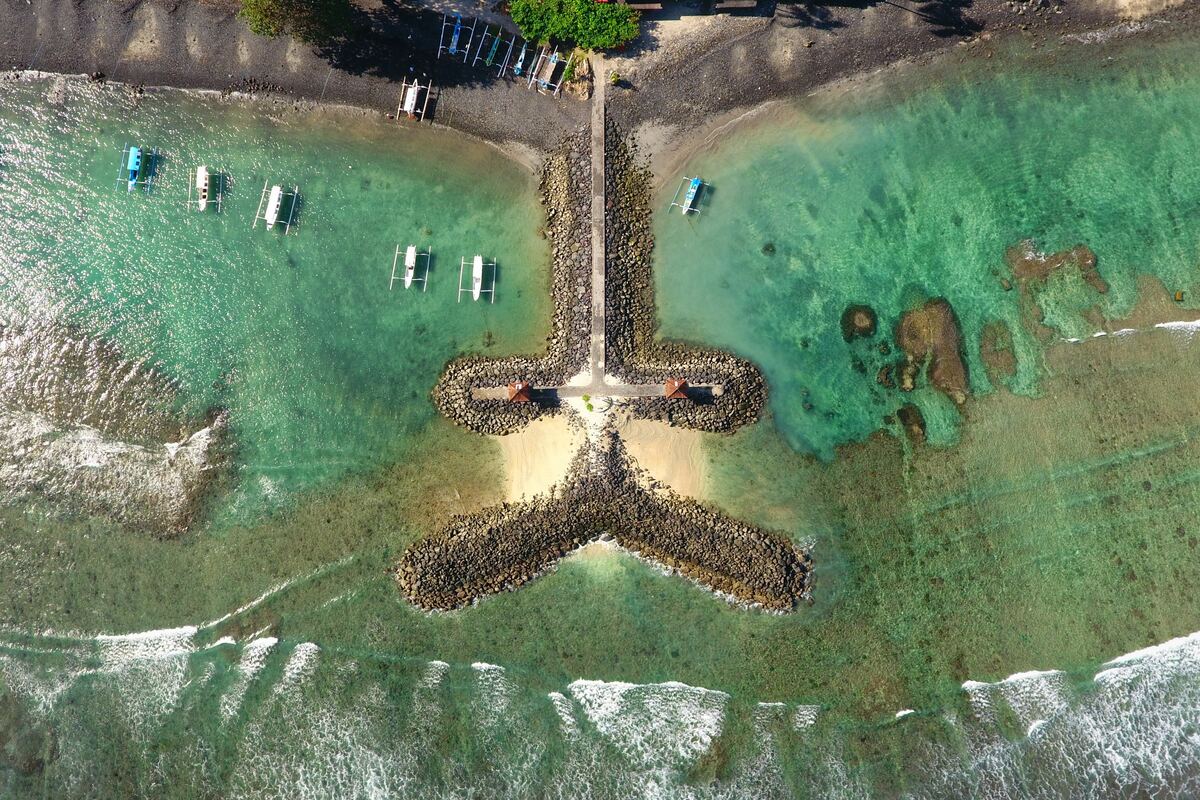 Candidasa beach
Pura Gumang Mountain Temple
Lotus lagoon
2. Ubud and Nearby
Waterfall, the jungle, and SPA.
Ubud is famous for its bohemian atmosphere. Creative people from all over the world come here: designers, writers, photographers, and yoga teachers. If you two want not only privacy but also try new interesting activities, then seek them here.

You can go for yoga for couples, have a meditation with singing bowls, wander around atmospheric art galleries or arrange a photoshoot in the rice fields nearby.
A wonderful day may end in one of the cool SPA centers, which Ubud is also famous for.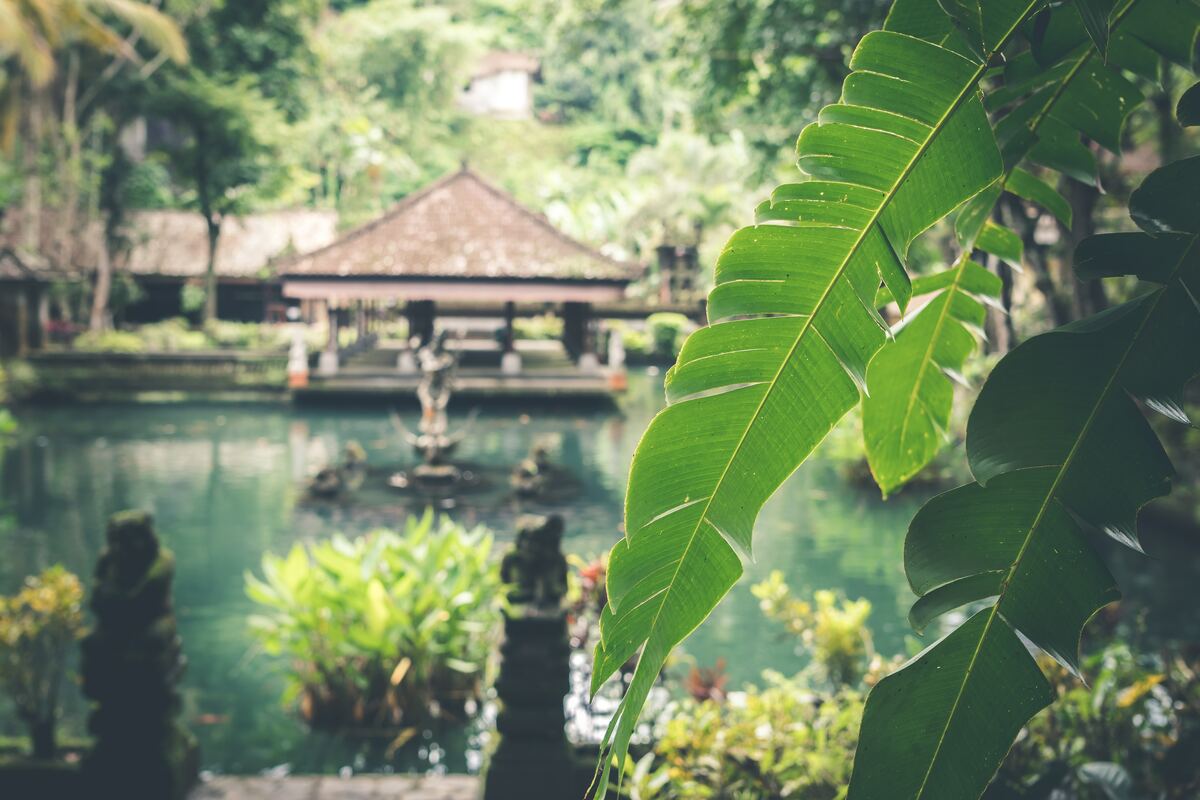 Ubud
Yoga and jungle
Rice terraces
3. Volcanoes Agung or Batur
Climbing the volcano, meeting the dawn, outdoor activities.

If you both love outdoor activities, then climbing a volcano is what you need to celebrate the day of adventure lovers.

There are two large volcanoes in Bali: Agung, 3,142 meters high, and Batur,  1,717 meters high. Which one to choose for a romantic ascent together? It depends on your physical fitness: if you play sports or, even better, have already gone mountaineering, then feel free to climb Agung. If you do not want to turn your romantic vacation into a physical endurance test, ascend Batur. In any case, you will need to hire a guide or buy a group tour. You won't be able to go there on your own, which is definitely better for your safety.
Whichever volcano you choose, it is better to start before dawn and enjoy extremely beautiful dawn in the morning. Do not forget to take a warm blanket and a thermos with a hot drink. Take a snack as well and be sure to have comfortable shoes and a raincoat. Let nothing spoil the triumphant sunrise at the top.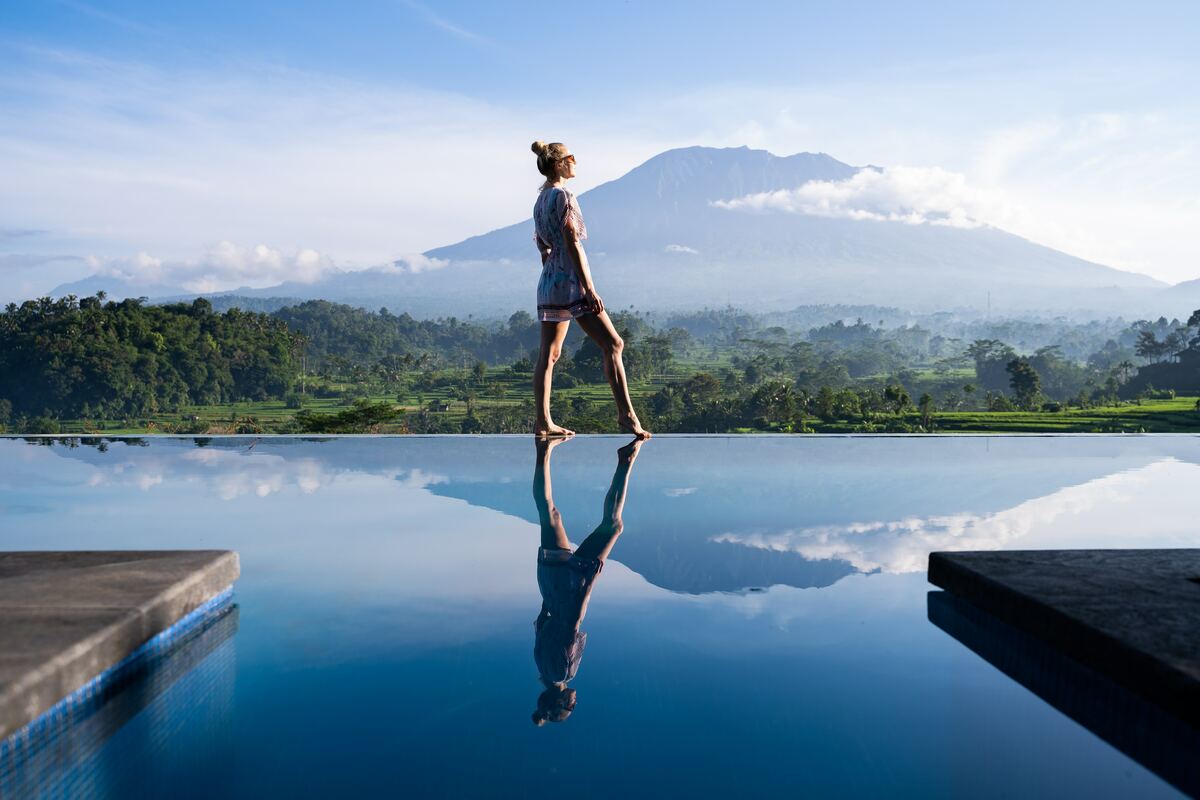 Agung view
Magic sunrises
Agung is beautiful from every angle
View from the top of Batur volcano
4. Uluwatu Temple and Rocks
The rocky coast, a picnic over a cliff, and a beautiful sunset.
The temple is located on a picturesque cliff that certainly adds even more romance. A stunning view of the Indian Ocean opens from the cliff: large waves break against the rocks and their noise is like a soothing mantra.
This place is the best for those who love contemplating the landscapes and leisurely walks.
You can even have a wedding ceremony in the temple. Just need to arrange it in advance. Imagine a ceremony at the sunset to the sound of the ocean!

A small nuance: there are many monkeys on the way to the temple so when going for a walk be careful with personal belongings and food.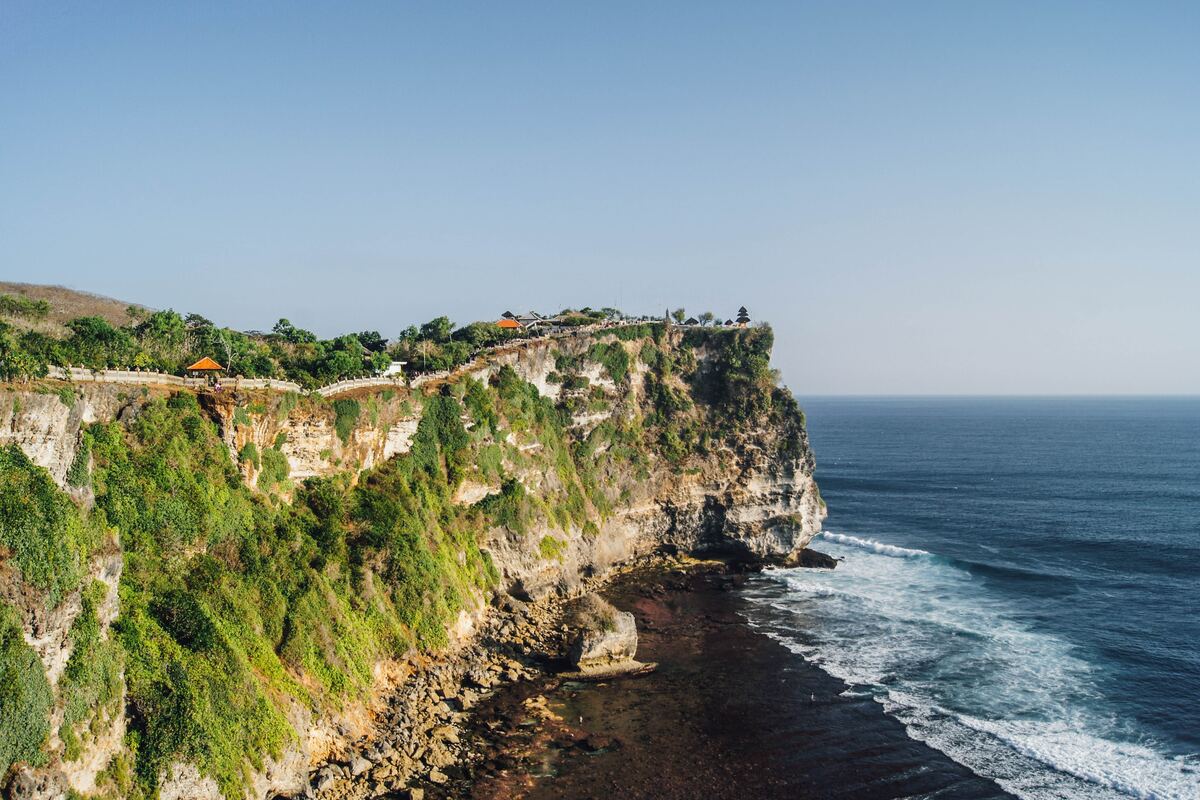 Uluwatu Temple
5. Jimbaran Beach
Arrange a photoshoot, have seafood for dinner and meet the sunset.
If you want a beautiful beach holiday without hikes and excursions, then Jimbaran Beach is one of the best destinations for that. You can sunbathe during the day and later enjoy the famous Balinese sunset with its changing colors from fiery-red to pale pink and an endless string of seafood restaurants right on the beach to have a romantic candlelight dinner in the evening.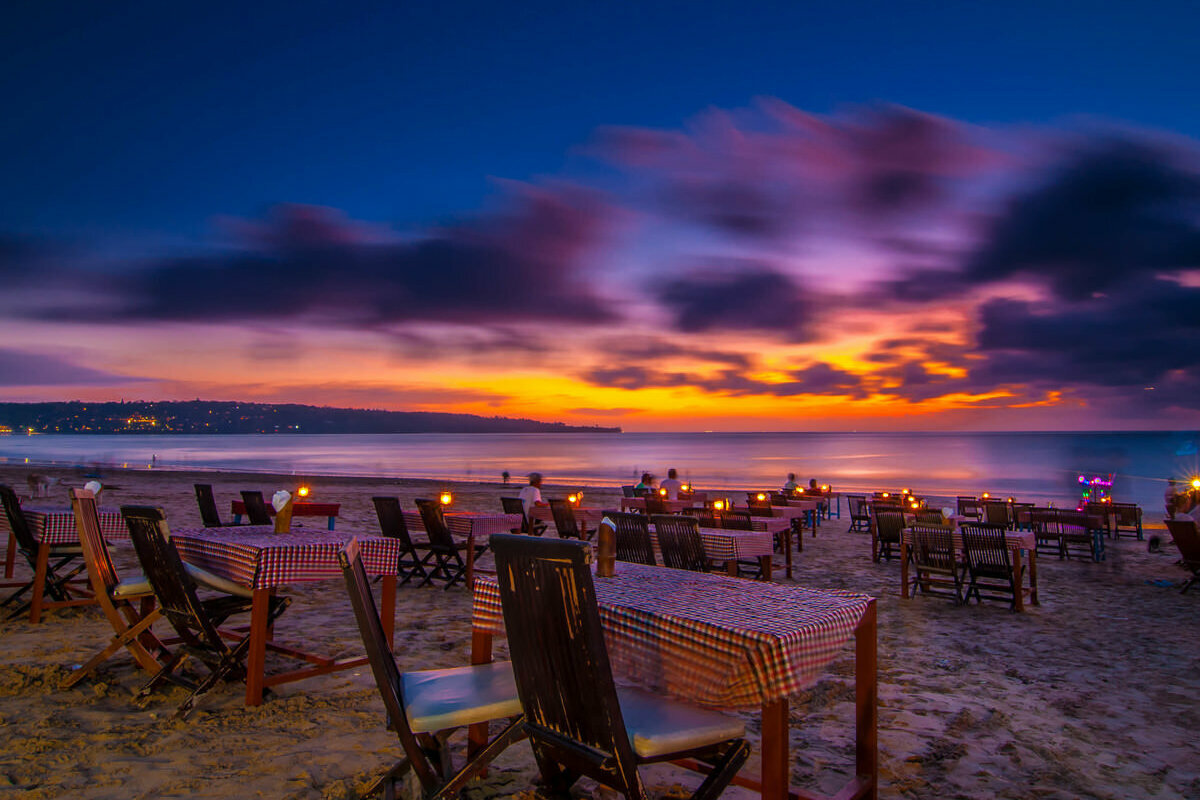 Jimbaran Beach
Whichever of these destinations you choose, the main thing is to create the right atmosphere and to find the very special villa where it will be nice to wake up and look forward to another day in paradise.