Winter is coming, which means it's time to think over the future holidays, both yours and your children's.  Skis, mountains, bars, and a glass of steaming mulled wine. What about children? They will have sleds, children's clubs, and slides.  All this is Méribel. We will suggest you 5 warmly welcoming chalets.
1. A 5-Star Family Vacation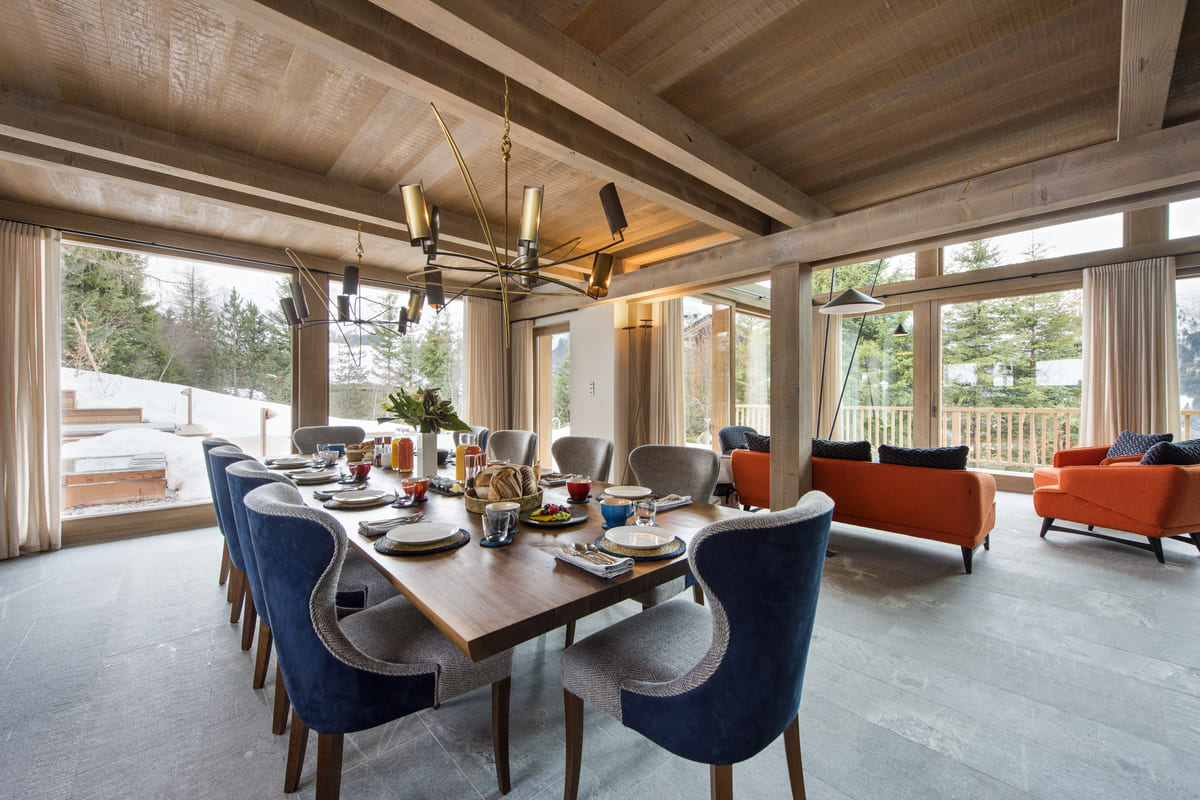 This 4-level chalet will ensure a truly five-star vacation for your family. Both adults and children will like this rationally and stylishly organized space. Children who usually are fond of explorations will be delighted with the chalet size and "filling". They will definitely like a special bedroom with bunk beds. The chalet is planned in such a way that the guests will not disturb each other even being in the neighboring rooms. This is a true residence for 14 guests with 6 bedrooms, each having a balcony, an ensuite bathroom, and a floor-to-ceiling window. 

A large living room, kitchen, bar, gym, wine cellar, and fireplace… there is no need to name all the details that should make your stay joyful and carefree. Let's better talk about entertainment. The main leisure facilities for all family members are at the main level. Children will find a rock-climbing wall and a large games room with gaming machines here. Parents may enjoy billiards, a bar, and a spa with a hammam. 

You can give a start to a new family tradition in this chalets: to gather with the whole family in a home theater every evening. Children will be delighted with the garden, where they can enjoy playing snowballs, as well as with a pool with warm water, where even the strictest parents will allow to splash in. Keen skiers will appreciate the wonderful location of the chalet: just 100 meters from the Doron ski run.
2. Home, Sweet Home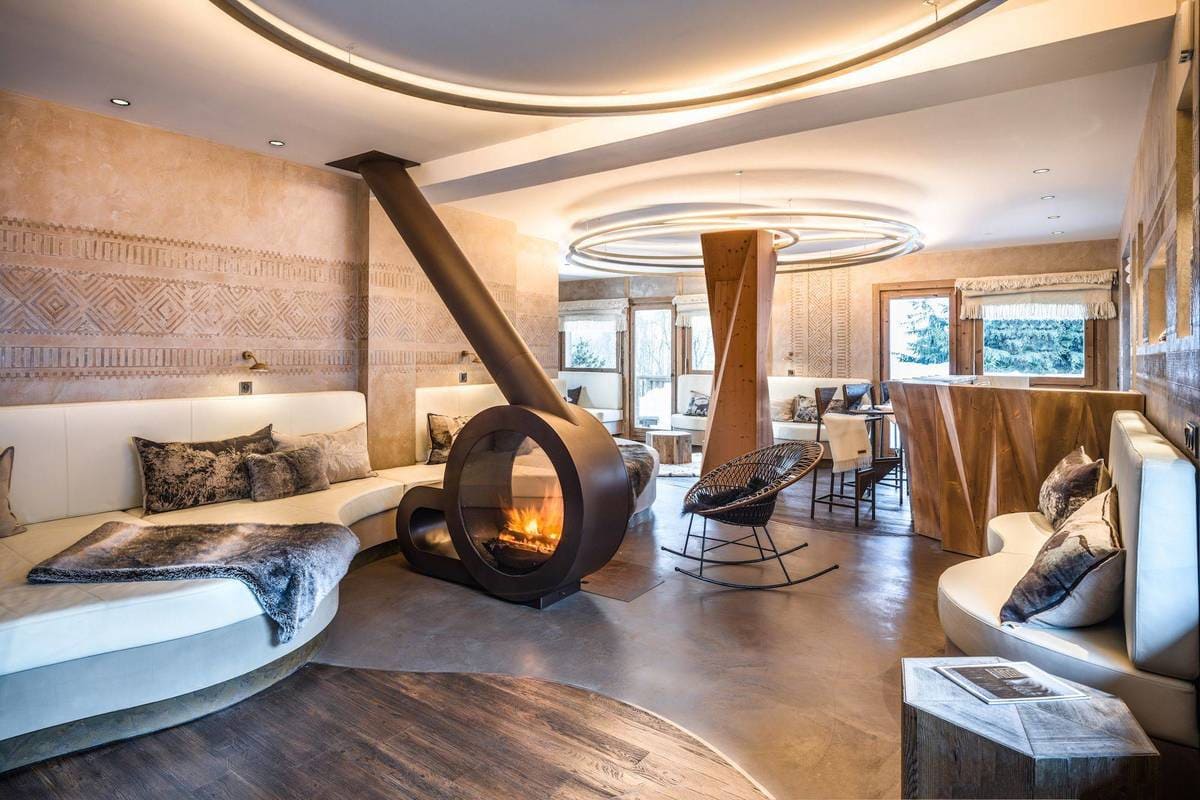 If you are looking for a family chalet away from the hustle and bustle of the city, surrounded by pine trees and snow, then be sure you have found it. The chalet is next to the Olimpe ski lift in Le Raffort, which is only 300 meters away. 

In this four-level chalet, time seems to slow down. A good reason to focus on those closest to you, isn't it? A wonderful dining table in a spacious dining room with mountain views as if specially created for long family dinners where everyone will want to discuss the past day. And continue the conversation gathering by the fireplace or in a large cinema, or perhaps in one of the living rooms. 

You will find 7 comfortable bedrooms with a balcony each furnished with sun loungers here. And there is even a private sauna in bedroom No. 1. Children will love bedroom number 3 with a Playstation. 

When the weather is sunny, you can sit out on the terrace while enjoying a cup of hot tea. On a cold day you can get warm in the sauna and then immediately dive into a warm indoor pool located on the first level and then move to the second where there are a fitness room and hammam. 

If children are tired of the snow, they can play table tennis, football or throw darts in the games room. While their parents will pass the time at the bar or, if necessary, work in a fully equipped office. Although there is a wonderful cuisine in the chalet, you don't have to cook: if you want, the chef will surprise you every day and treat the kids with a special menu. 
3. Oasis of Comfort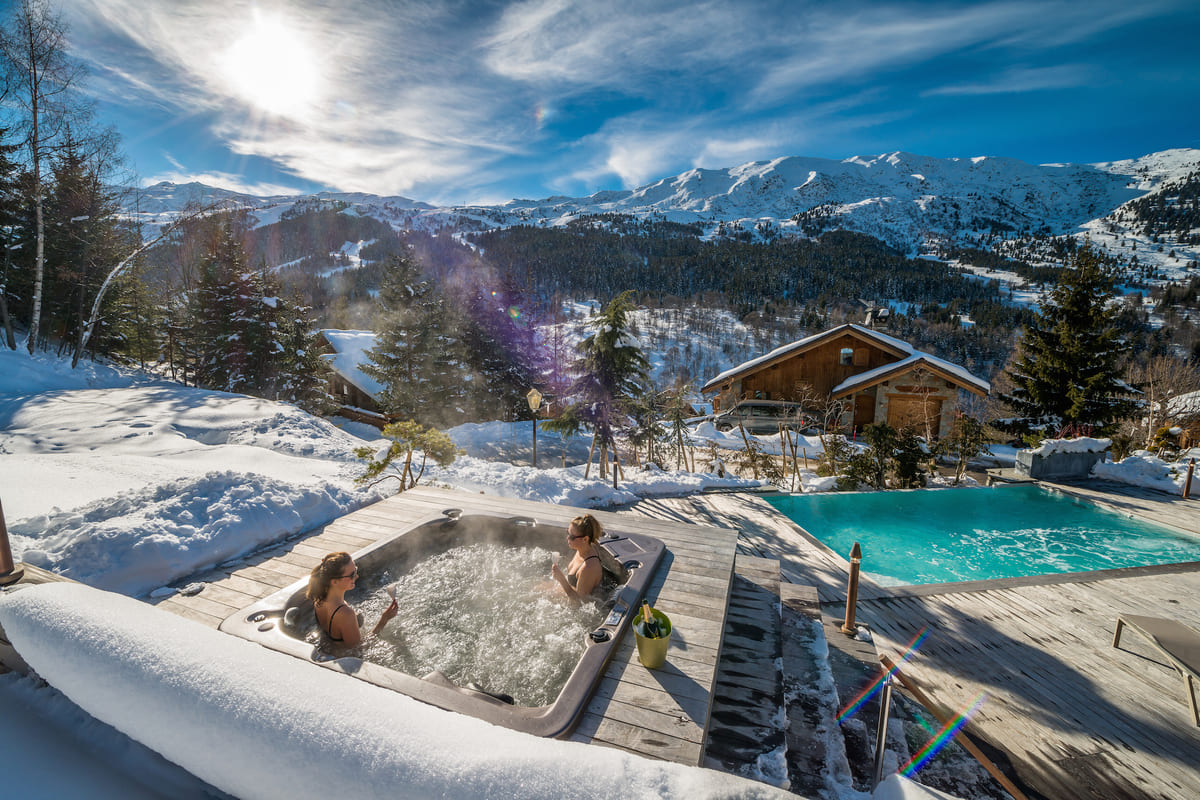 This cozy chalet is located in the very center of Méribel. However, when you close the chalet door, you will leave the noise and fuss behind. A driver, a maid, and a chef will do everything to help you have true relax forgetting about daily worries. 600 square meters with 6 bedrooms have recently been renewed by a famous designer. Moreover, they are have a fireplace which make the room even cozier. 

A large living room with panoramic windows and an open fireplace is a splendid place to relax with a large family or company. There is enough space for everyone. Thanks to the large windows and well-organized area, the guests have the complete illusion of unity with the luxurious winter nature of the Alps. 

When children have free time after skiing, they can hang out in a play area filled with a variety of toys and board games. There is a similar room with adult entertainment and must-have billiards and a bar just nearby. 

It is hard to surprise anyone with a tub in the Alps but a large panoramic pool where you can really swim is still a small sensation. By the way, it is one of the few heated pools of such an impressive size in Méribel. 
4. Ski Adventures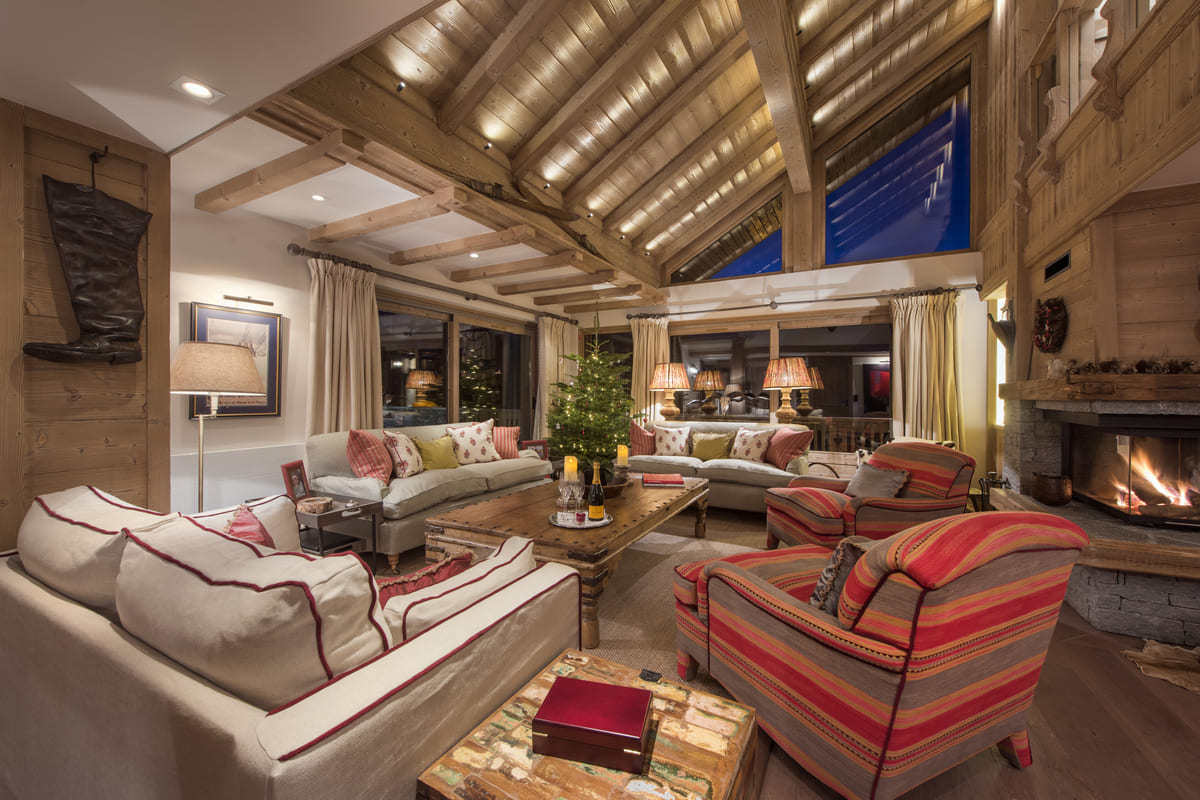 The ski-lovers will definitely appreciate this 7-bedroom chalet. Indeed, the nearest ski lift is a stone's throw: some 100 meters away. The brand-new chalet built just two years ago, is, in our opinion, the ideal place for several families or one family, but a very large one. 

Unlike in other chalets, a large part of the space here is devoted to Spa procedures that are usually wonderfully accepted after skiing in the cold. There is a spa with a hammam, a massage parlor, an original sauna in the form of a wooden barrel, and the jacuzzi "steaming" on the roofed terrace. Well, which of the children will refuse the opportunity to splash in the water after a ski race? They will love both the home theater and the games room where they will spend all their free time. Although, perhaps, not the games room will be the main attraction for children but a bowl for a bonfire – a great place to gather around for a cup of hot chocolate after street entertainments and tell stories wrapped in a fluffy fur blanket. 

Little skiers will see the sweetest dreams in a special bedroom with bunk beds as well as in a family suite, which is easily made of two neighboring bedrooms No. 4 and 5. By the way, good news for those who still can't ski: you can get free lessons from an experienced coach on the first two days of your vacations. 
5.A Luxury Chalet for a Sport-Loving Family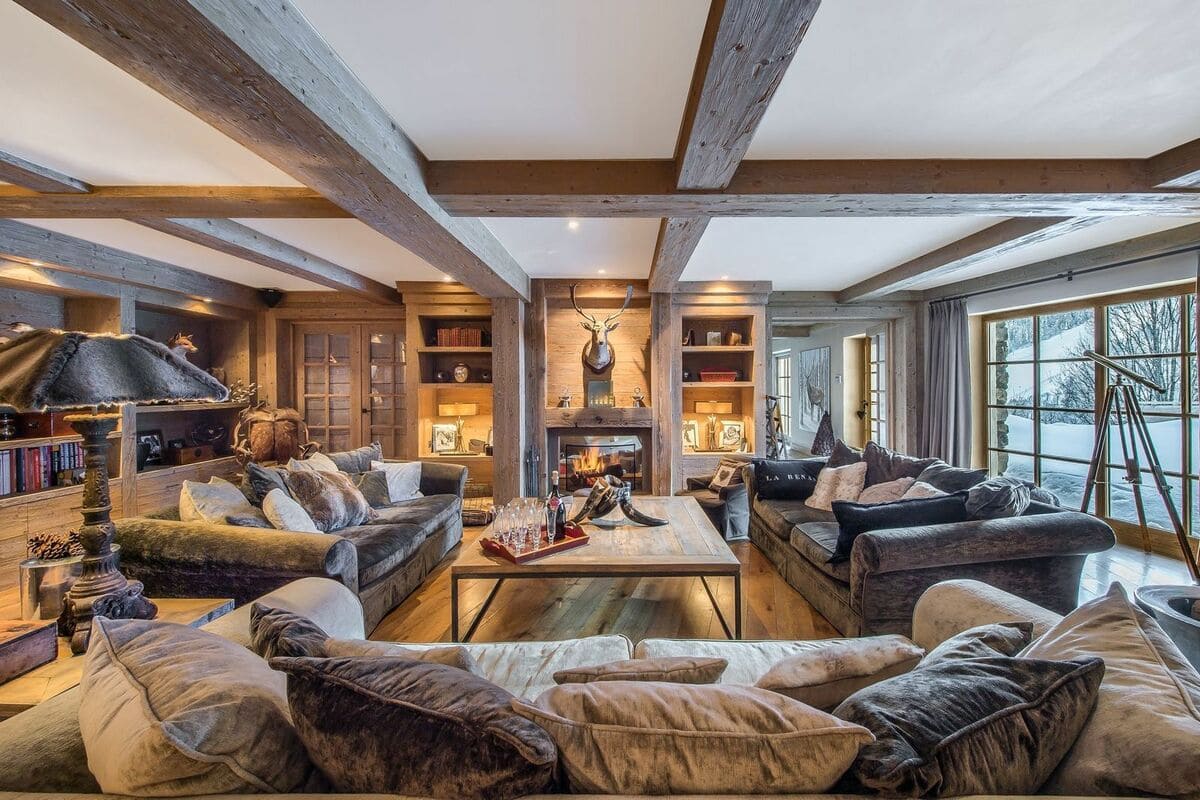 Sport-loving families will appreciate this luxurious four-level chalet with 10 bedrooms. This is one of the most prestigious chalets in Méribel located in the very epicenter of skiing life: close to pistes and ski lifts (for example, it is just 300 meters far from Doron and a half kilometer from the Snowfront ski lift). 

But this is not its only advantage. One of the highlights here is the largest terrace in the whole city overlooking the World Cup piste. Each decor element in the chalet reminds you that you are in a comfortable Alpine house: fur covers, exquisite elements, beautiful and comfortable furniture, a stylish fireplace, wooden beams on the ceilings, and designer chandeliers over dining tables. All this creates the atmosphere of a real winter fairy tale.

There is a specially equipped bedroom No. 9 with three beds for children and bedroom No. 8 where there is a bunk bed in addition to the parent double bed. 

This chalet also has an Alpine must have: a pool with a jacuzzi in the spa area, a sauna, a bar, and even a fitness room. What else do you need to relax in one of the largest ski areas? A wonderful game room and home theater will no doubt become a magnet for small guests. 

Just imagine how convenient it will be for your children to watch a movie lying on soft sofas and enjoying a fresh hot roll baked by a chef with care. A butler, a maid, and a driver will help make every day of your vacation truly carefree.