If rest for you means not only skiing, restaurants, a glass of mulled wine, and other apré-ski joys but also relax with meditation, enjoy five chalets with an incomparable view. These chalets are real art galleries where the paintings are made by nature itself.
1.Switzerland, Verbier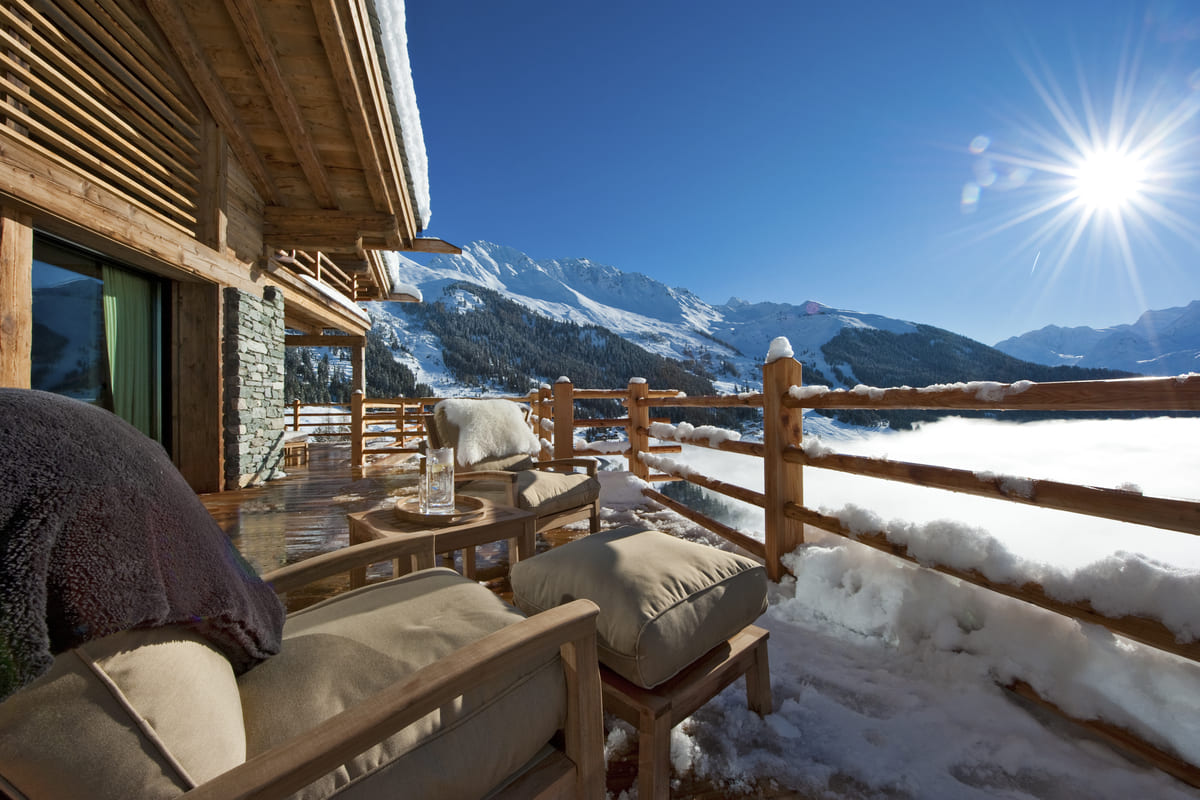 A mountain house in the snow, which high location allows you enjoying the mountains from almost anywhere, even when taking a hot foamy bathtub amid sparkling snow where you can luxuriate in the open with a glass of champagne. 

The chalet has five levels connected by a staircase and an elevator. It is a great place to stay with a large family or invite a company of up to 14 friends or colleagues. Wood, fur, and stylish details making the house even more cozy and comfortable were chosen for the interior. 

An open veranda is an ideal place to have a cocktail party and admire the sunsets. By the way, you can even sunbathe here on a clear sunny day. Do not forget that mountain tan is deemed to be the most lasting. 

When you get tired of a busy skiing day, you may spend time in a spa area with a pool, a gym with the most modern equipment, a tv room, a massage room, or a wine cellar. Actually, you are at risk to forget about skiing at all. At last, you can truly relax, since a chef, waiters, maids, and a driver will take care of your comfort. 

It will be great to read a book in the lounge area wrapped in a blanket, to relax in the spa or doing yoga before the dusk. Go back to your friends to have a glass of mulled wine with them by the fireplace.
2. France, Méribel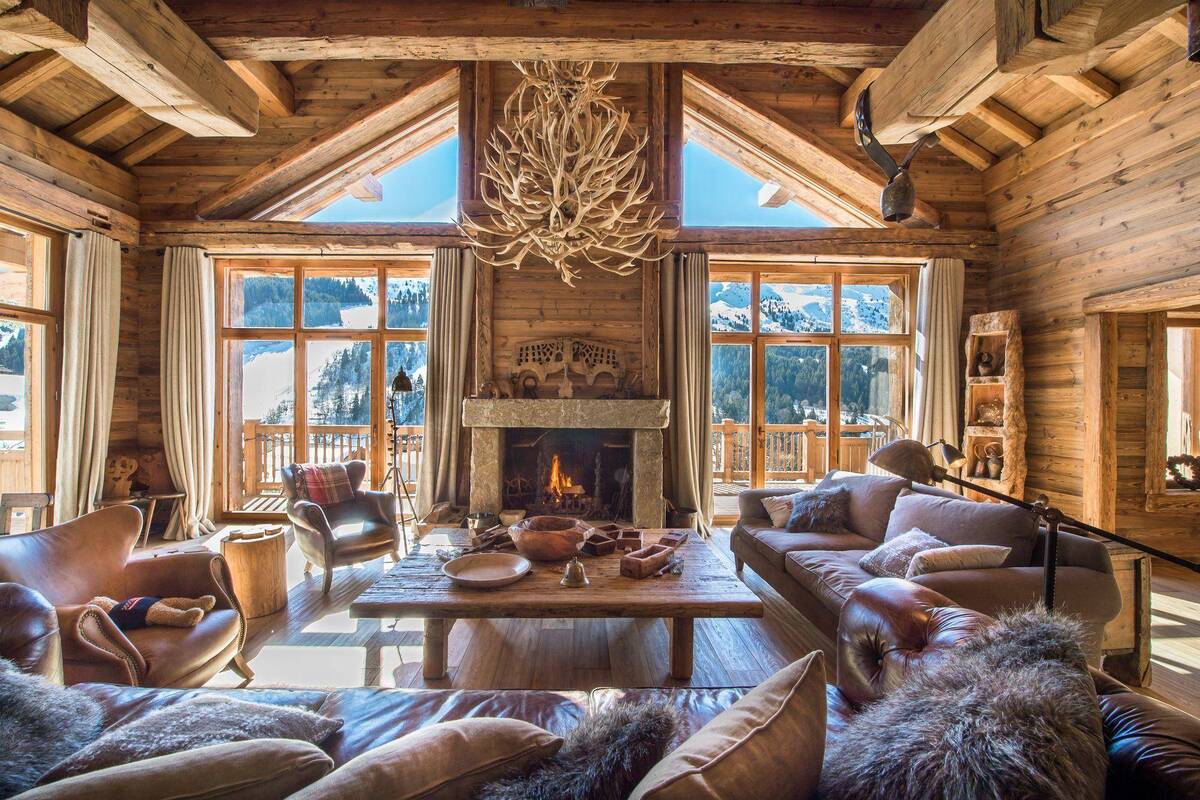 Chalet on Route de la Renarde is one of the most popular holiday destinations in Méribel. The nearest ski track is only 150 meters far, the key resort points are just 200 meters far, and a ski lift is 400 meters away. But not only this make it an ideal place for winter holidays. 

If you choose this chalet, your vacation will be filled with the atmosphere of a real Christmas tale thanks to the incredible scenery. You can enjoy the views of the soft slopes and inviting sparkling snow through French windows. 

Luxury design with elements of the old Savoy style is manifested by small details: works of art, decor elements, furniture, and wood, which was used even to decorate bathrooms. Everything here, including an old-fashioned stove in the kitchen, a cozy fireplace in the living room, leather sofas and armchairs, tune you in a relaxed holiday mood.

A spacious terrace as if was created for warm family dinners with fondue. Turn on the music and enjoy the mountain views. Just imagine how nice it is to spend time here with a large company on a sunny day with (by the way, an additional winter bonus here is free champagne!). There are many apré-ski activities you can enjoy here: a hot tub, a hammam, a swimming pool, a home theater, a library, and a wine cellar. You will have the opportunity to enjoy a rare vintage wine before tasting the chef's dinner. 

All six bedrooms offer stunning mountain views, which you will enjoy when waking up and falling asleep. 
3.Switzerland, Zermatt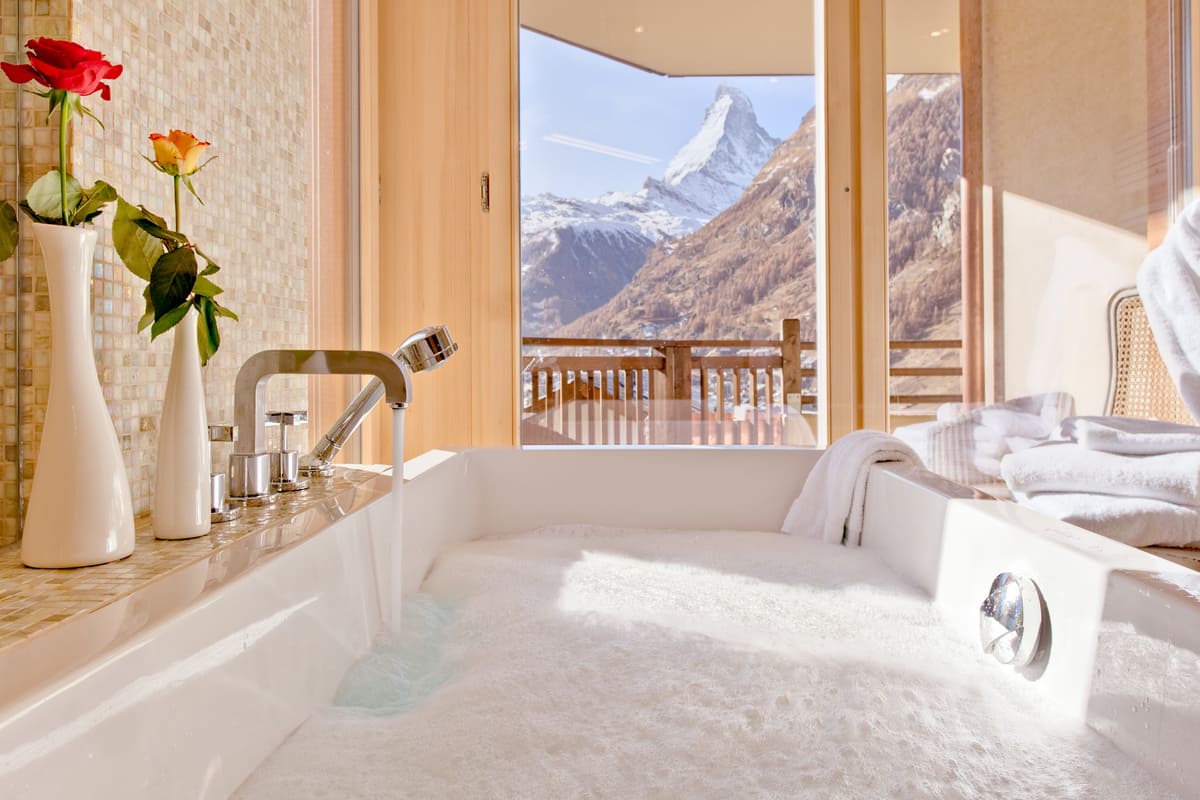 A spectacular example of modern architecture, astonishing aesthetics right from the pages of a design magazine, and an elegant interior, as if you visit an aristocratic relative. 

But the main thing here is the breathtaking views of the Matterhorn and Zermatt opening from the terrace and from the panoramic windows of the dining room! You can enjoy them sitting by the fireplace wrapped in a cozy blanket with a cup of tea made with real mountain herbs. 

The chalet's space is very well-organized: it can comfortably accommodate 10 adults and 4 children. Five chalet bedrooms with large panoramic windows are decorated in soft pastel colors. The balconies are facing south, where it is always warmer and lighter. There is a fireplace in the lounge area, the bar is connected to the living room, and there is a home cinema in the villa. 

You can spend the whole day in the wellness center (also overlooking the beauty of Matterhorn). Feel the benefits of the hot basin in the snow. Not to mention tea, morning coffee in bed, canapés with an aperitif before dinner and, of course, delicious dinners from the chef. Are you a gambler? This chalet has an additional bonus: a games room with billiards and a card-table. 
4. France, Chamonix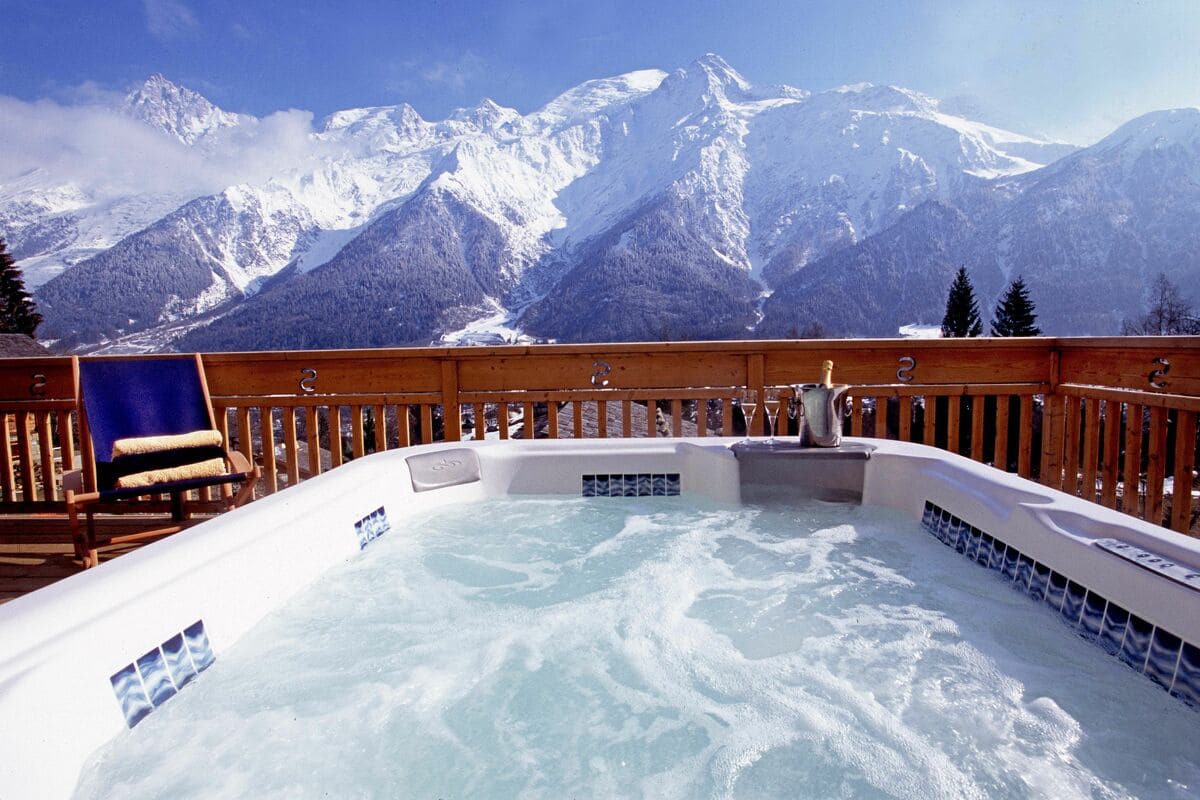 This chalet overlooking Mont Blanc seems to sail high in the sky. You can admire the mountain views here lying in the bath located directly in your bedroom or enjoying the hot tub for six. Just imagine how pleasant it is to dive into a heated pool with a counter-flow after an active day on the slopes! 

The elite quiet area in the south part of the Chamonix Valley, where this seven-bedroom winter house is located, guarantees you a peaceful holiday and complete privacy. Its layout, design and pleasant stylish trifles combine modernity, comfort and the chance to enjoy the nature around. Now one will be left unnoticed: both adults and children will find what to do here. If the wine cellar and the bar will be the territory of adults, the games room with billiards, table football, toys, and a slide will be children's favorite place. 

The fireplace in the living room creates a warm atmosphere for the whole company, and the cinema will bring everyone together to watch the latest movies. Whatever you do, the magical views you can see from almost every corner are amazing.
5. Switzerland, Verbier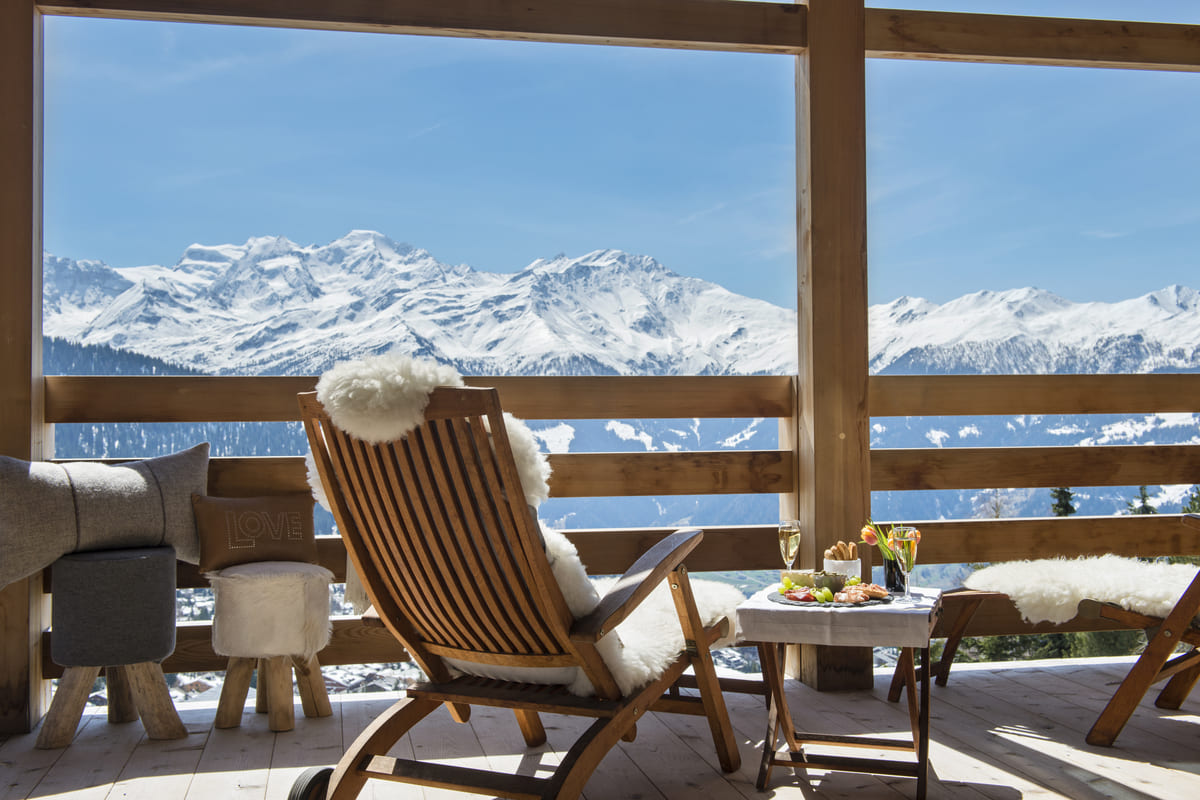 A tranquil mountain oasis to catch a break and hit the reset button. The chalet built in the upper part of Verbier gives a chance to admire not only the mountain range but the city below as well. 

It will be great to arrange a Swiss feast in a beautiful light open-plan Alpine-style kitchen, which is perhaps an ideal place to have any meal. Another highlight of this chalet is a hot open-air bath, from where you can admire the snow-capped peaks and sunsets even in the coolest evening. This three-level four-bedroom chalet can be called family-friendly since it looks as if it was created for couples or close friends who would like to spend holidays together but have a private space at the same time. There are fireplaces both in the lounge area and in the living room. The service here was thought over to get you rid of unnecessary troubles: the services of a ski instructor, concierge service, tasty dinners from the chef, and ski pass delivery are available. 
Each of these chalets suggests impressive views but whatever you choose, a winter holiday in the Alps is always a great idea.