The experience of living in a private villa located right on the beach and surrounded by tropical nature is beyond compare. If you really want to try out all the delights of island life in Southeast Asia without any loss of comfort, look for a villa on Samui.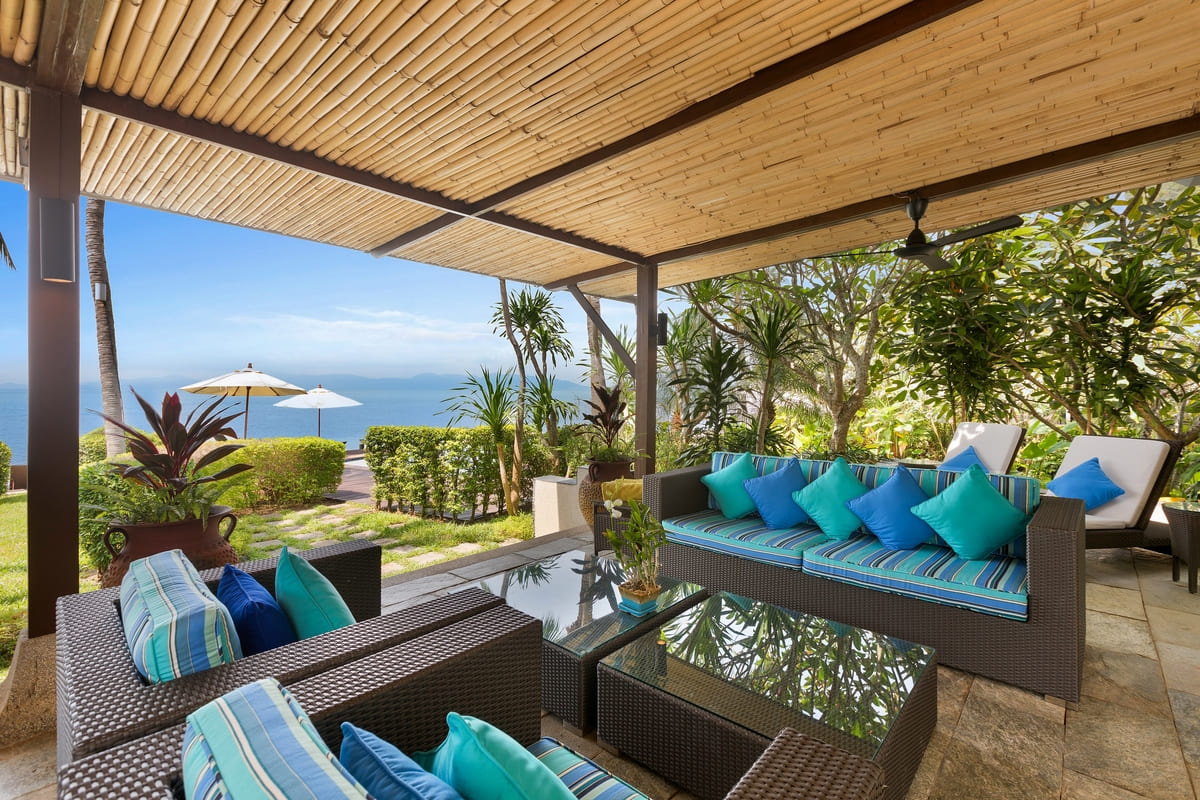 Why Samui?
You've probably heard a lot of such recommendations. If you want paradise views and exotic vacations – go to Samui. If you want a quiet and relaxing holiday – go to Samui. If you want to experience island life and see how the locals live – go to Samui. Want a family holiday? Go to Samui. Overwintering with remote work? Go there too. What makes this island so attractive? 

The second largest island of Thailand is considered the first in comfort. They have everything here: secluded beaches and bustling markets with local food, excellent restaurants and bars, a traditional fishing village, modern golf courses, spas, local shops, and global brands. Children will love a mini-zoo with a many birds (Paradise Park) as well as a crocodile and snake farm. There are two cinemas on the island where movies are shown in English with Thai subtitles.

Add to this the tropical climate, the ever-crystal clear sea and the stunning beauty of nature, and you will get the place that can be called paradise. The main thing is to find the right home. Believe us, you don't need to look further!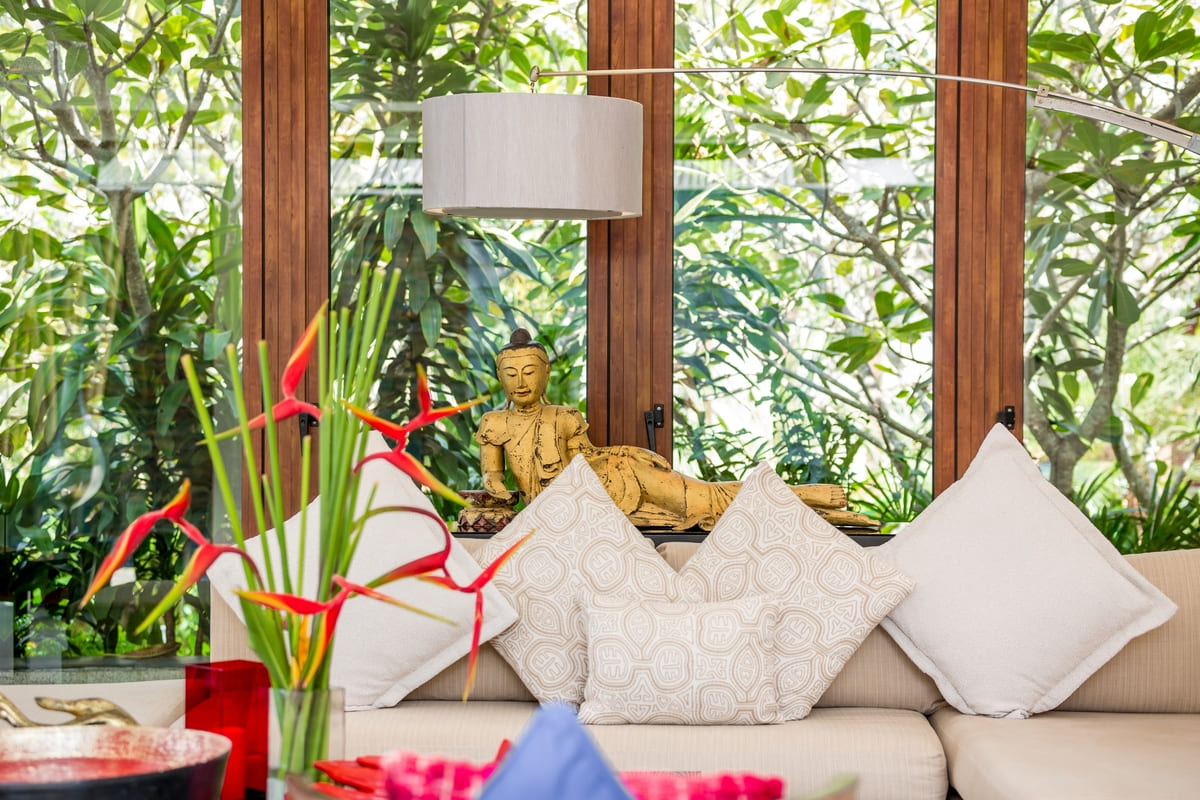 Modern design using natural materials, a large swimming pool, and a private beach: all this in a closed luxury complex, which guarantees silence and privacy to its guests. What else do you need to feel happy? We could say: nothing, but we have a couple of special requirements.

For example, the opportunity to bring the whole big family or a noisy group of friends and accommodate them so that no one bothers anyone. Seems unreal? No, it is quite real! Five pavilions with a living area of 354 square meters plus almost the same area of terraces, swimming pools, and open spaces. A dozen people will be easily accommodated here and each will have his or her own private space, if necessary, as there are five spacious bedrooms with large comfortable beds, high-quality bed linen, huge windows, ensuite bathrooms of natural stone, and a tropical shower. There is also an outdoor bath overlooking the sea and the tropical garden.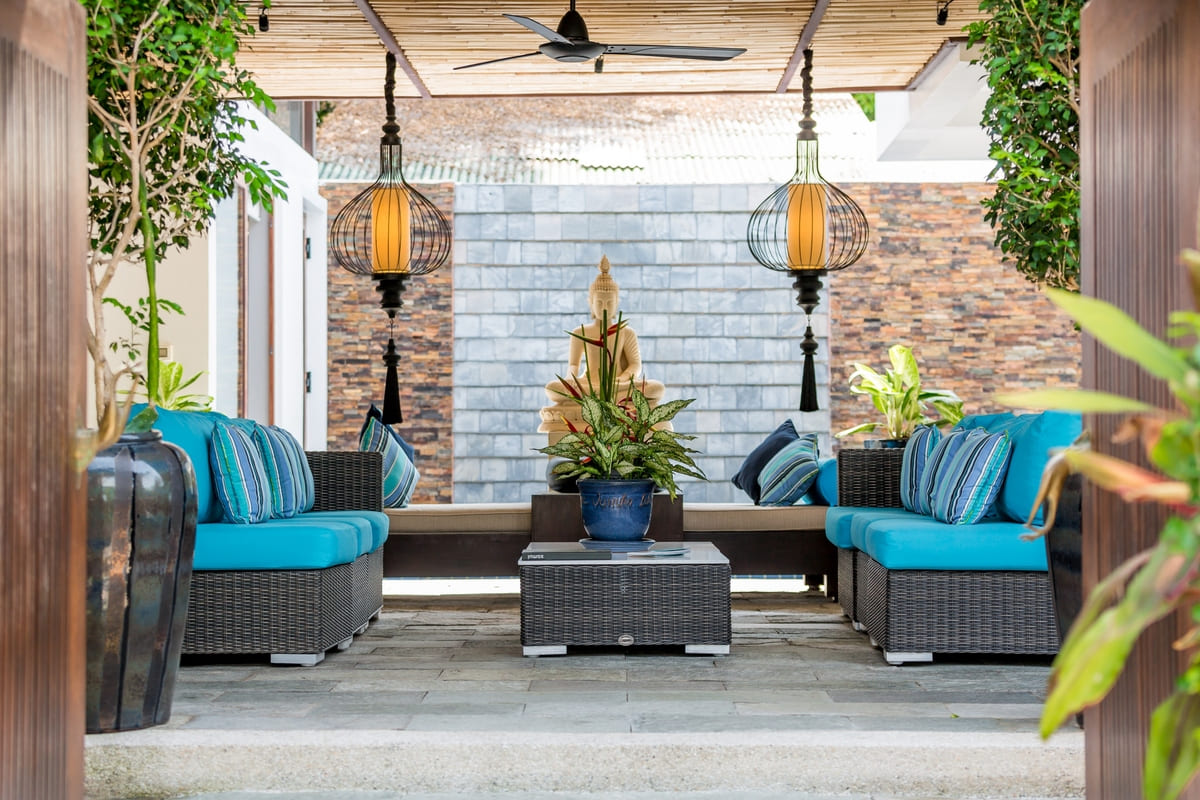 Flat-screen TVs, Wi-Fi with excellent speed, DVDs, and an iPod docking station: all the appliances you need for a comfortable life will also not let you get bored. You can arrange a disco or a movie night. If you have to, you can even work with comfort (but don't as you're on vacation).

All villa pavilions have outdoor dining areas and are equipped with everything you need to store and cook. But will you want to cook, if you have continental breakfasts, as well as lunches and dinners from a personal chef at the villa? May be just a grill. It is simply a sin not to use it with an abundance of the freshest seafood within a walking distance. Have a barbecue! Or ask the chef to cook it. 

No matter whether you are fond of cooking or not, we should settle upon the kitchen separately. The kitchen is in a separate pavilion and is really impressive in its size and equipment: it is in no way worth than that of a restaurant. There is a dining area with high ceilings and a huge table where eight people can comfortably take a seat in the same pavilion.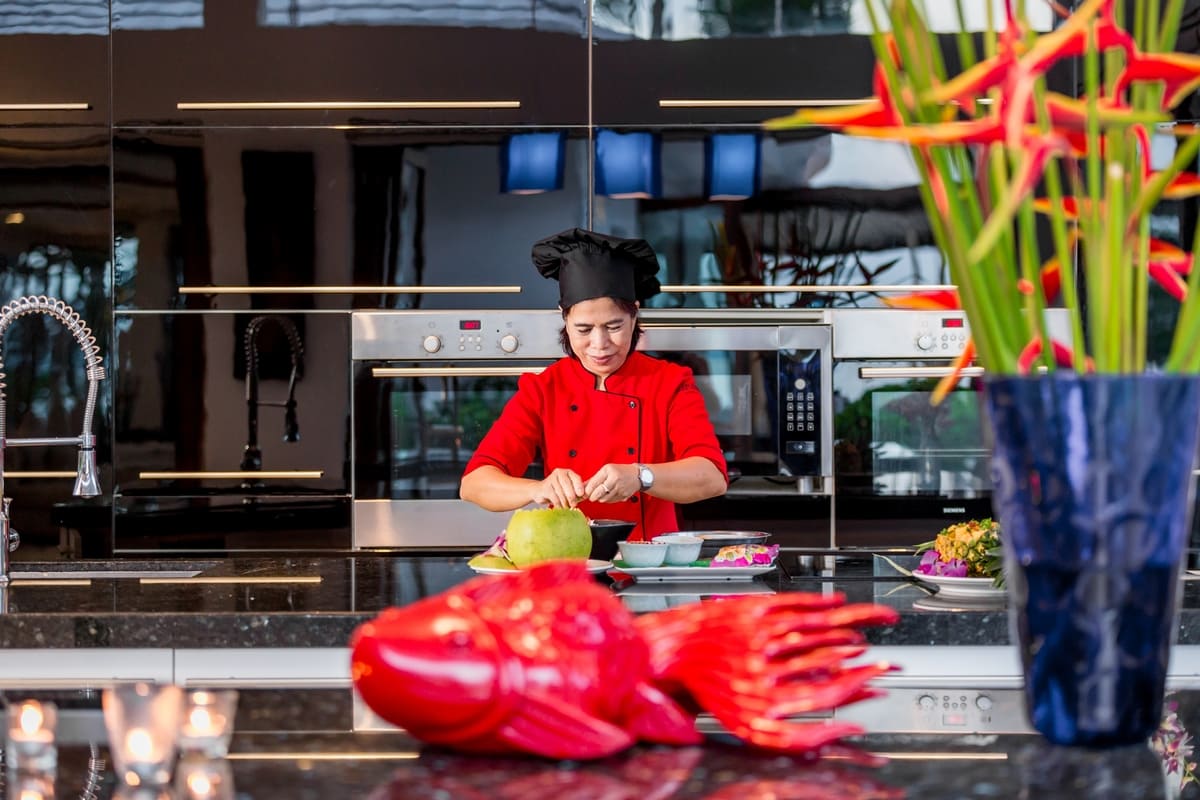 Only a spa is missing to have a truly paradise holiday, isn't it? But it is here! The villa's own spa offers a wide range of treatments: from massage on the beach to body scrubs and pedicure. We recommend to pay special attention to oil massage. There are many coconut farms on the island and coconut oil is the main secret of beauty and health of local residents. 

They use specially collected pure rainwater in the spa shower, which incredibly softens and moisturizes the skin. The best cosmetics of famous brands is used for spa treatments. There is a fully equipped gym in the spa. Again, this is not a separate spa, but your personal one, located right in the villa.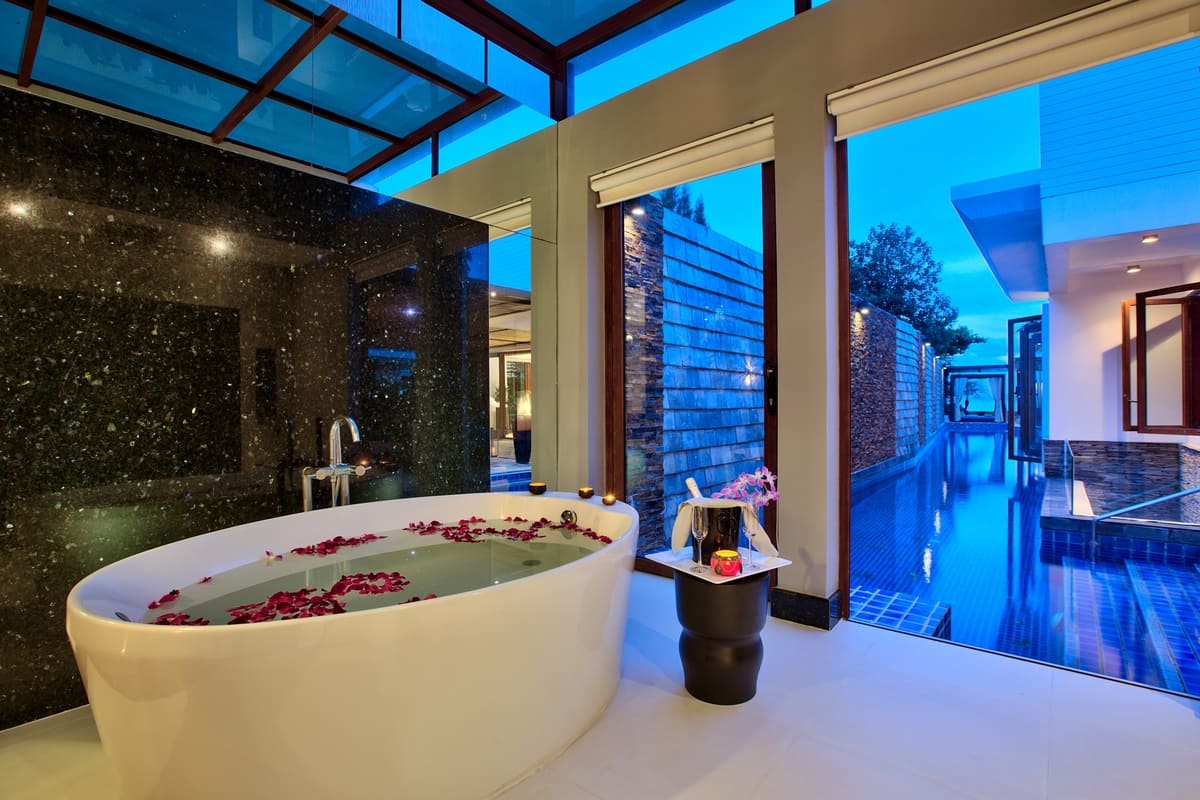 Ready for more surprises? Then let's go further. 

We have already mentioned that the villa is located on the first line, that is, right on the quiet Maenam beach, which overlooks the neighboring Koh Phangan.  This part of the beach is a private area only for the villa guests. Clean and pleasant sand and clear sea are only yours. You will also have your own umbrellas, deck chairs, and even kayaks. Do not want to go to the beach? The villa has a large 27-meter swimming pool with jacuzzi overlooking the sea.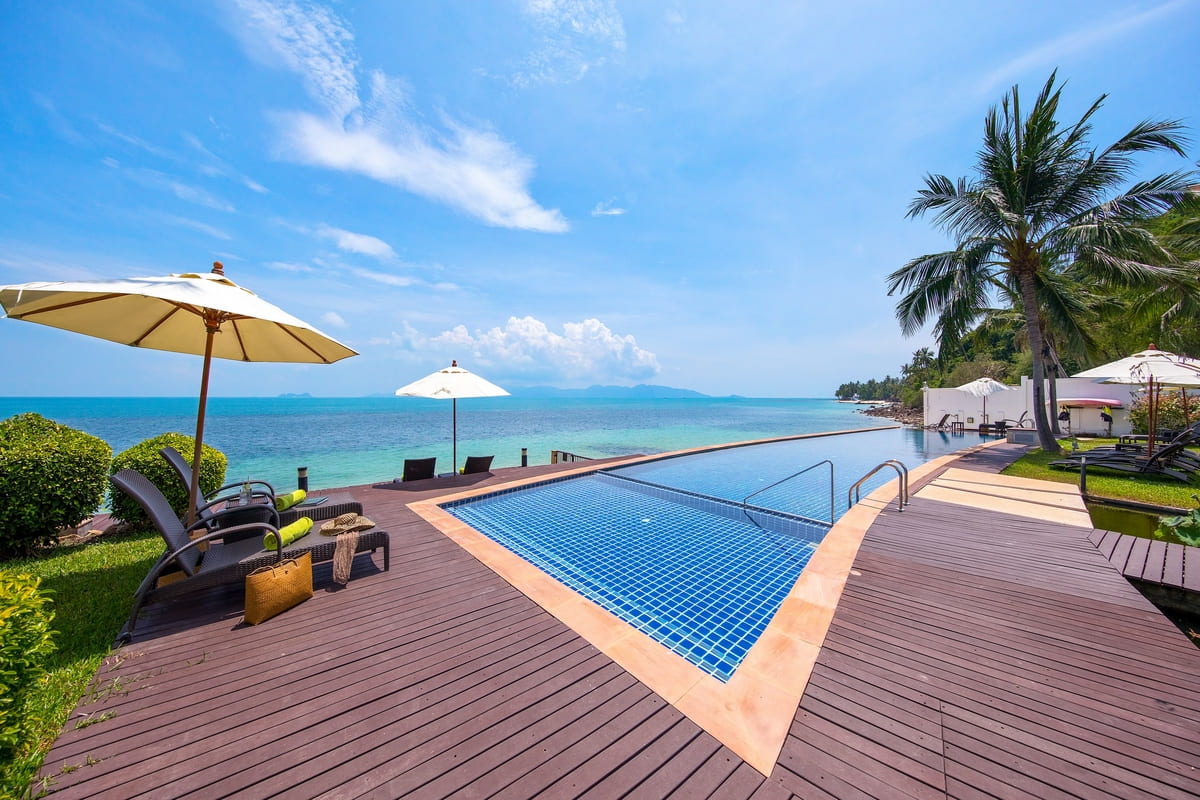 If suddenly you would like to leave your personal little paradise on the beach and plunge into the raging life of the island, it will be easy since the villa has a very good location. It is quite removed from the tourist places but still it will take just 15-20 minutes to get there. 

The main beach, Samui Chaweng, with its daily parties is 13 kilometers from the villa. Fisherman's Village, the island's busiest and most popular tourist destination, is 10 minutes' drive away. There you can find popular restaurants and bars, authentic shops of local artisans, and on Fridays – the legendary night market, which you should definitely visit at least once. 

Anyone who prefers more sophisticated leisure may visit the famous Santiburi Golf Club located just five kilometers from the villa.  I bet you have never played golf enjoying such views.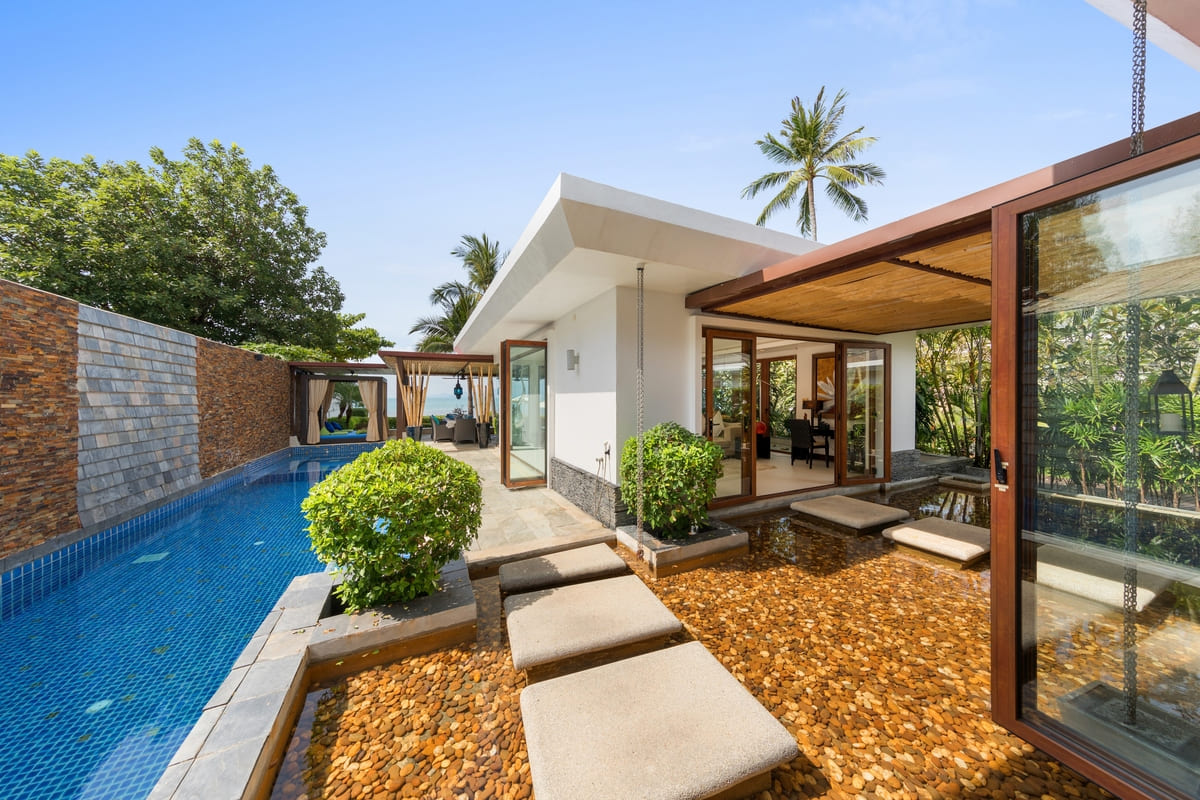 Now you understand that the villa will be comfortable for everyone: both for lovers of secluded holidays and for dedicated party-goers. Anyway, why choose just one if you can always reach the main sights and parties in 10-15 minutes and when you want peace and solitude, you can go home and enjoy your personal beach and beautiful, comfortable villa surrounded by coconut palms?