We continue to tell you about the features of large ski resorts, which are located around the highest mountain in Europe — Mont Blanc. This part of the guide is about the real pearls of the Three Valleys — the resorts of Meribel and Chamonix.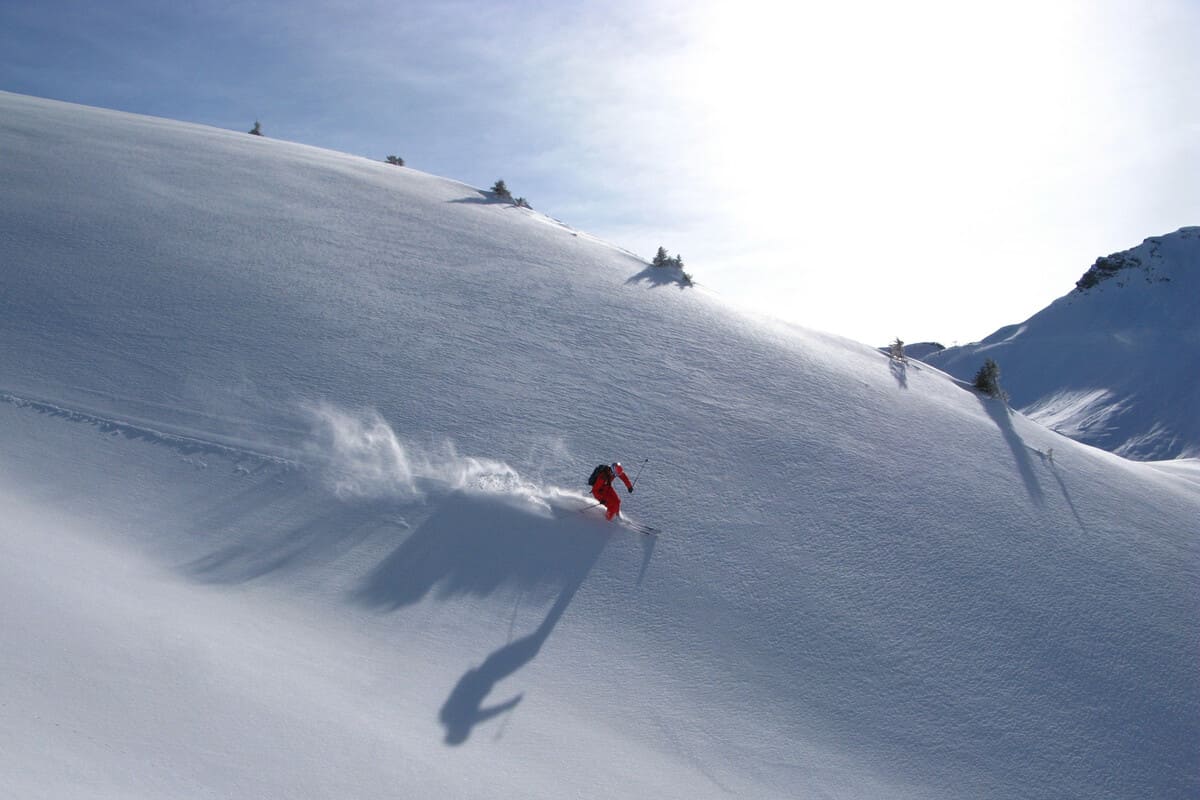 Three Valleys
Ski paradise
Méribel
Despite the fact that the name of this resort is widely known, it will become a real diamond set in gold for the newcomers. Why we used such a pompous comparison? Because Méribel is situated in the center of the Les Trois Vallées area, surrounded by Courchevel, La Tania, and Val Thorens. Moreover, not so long ago, in 2013, skiing competitions were held here, and pistes can be called ideal without false modesty.

Snow is guaranteed for the whole season, and most importantly, Méribel provides very convenient access to mega-long pistes: not only high-speed but also racing pistes 33 km long in total. Skiers of all levels will find a skiing area according to their needs and abilities, with both on- and beyond-pistes skiing. Méribel pistes are unique as the majority here are of moderate difficulty (there are more than 100 of "red" ones) and there are more gondolas than at any other resort in the world. Those experienced skiers who have grown over the "red" pistes but have not yet reached the level of "black" ones may enjoy skiing on Olympic slopes (5 km in length). Two snow parks will please fans of snowboarding and freeriding.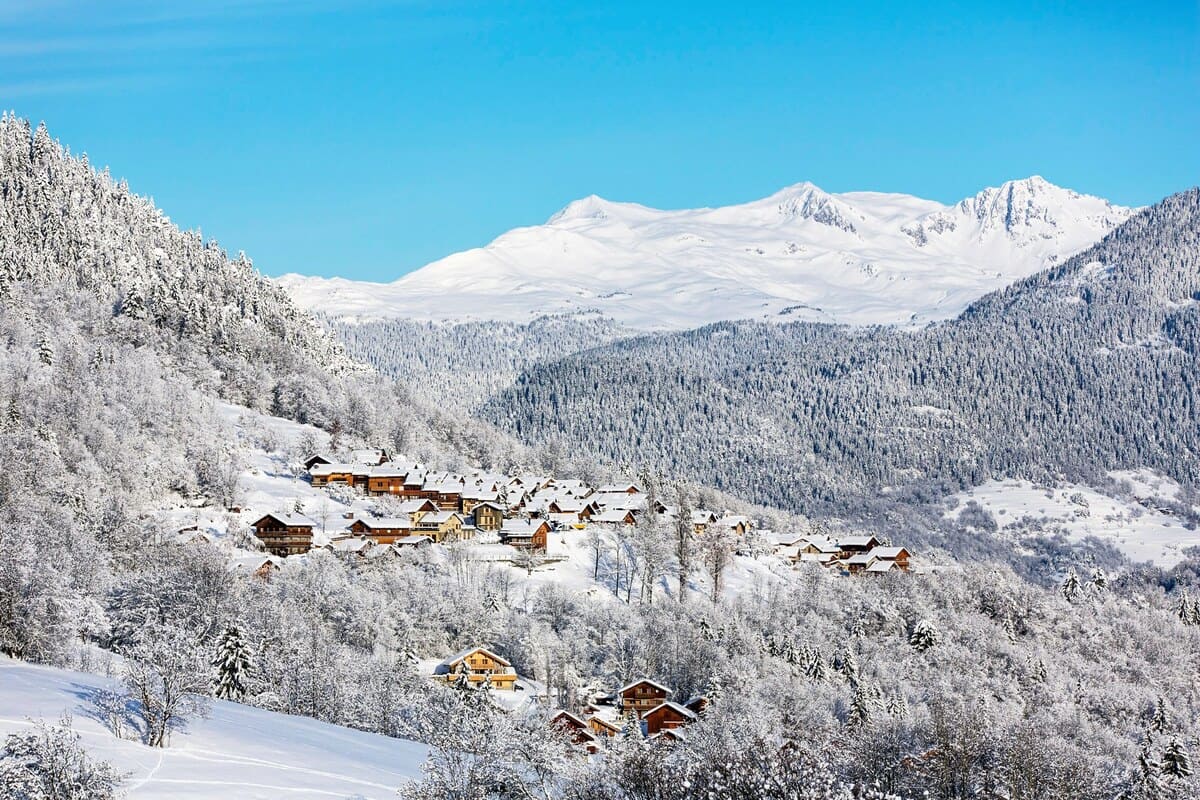 Meribel ski resort
In the center of the Les Trois Vallées
Ideal ski slopes
Méribel consists of two villages: a center built as an old alpine village and a more modern Mottaret. However, in both parts, skiers will find shops, restaurants, and lively bars. The two parts of the resort are connected by a lift, which stops at 7:30 pm. Those who are late will have to walk.

The atmosphere of Méribel and its spirit are more relaxed than in Courchevel but the infrastructure and leisure activities are not worse. Snowmobiles and sleigh rides, snowshoeing and snow car driving, paragliding and ballooning, bars and discos. Not to mention excursions and restaurants. 

There are so many of them that you can eat in a new one every day. There are simply no bad or average ones. So don't hesitate to experiment with tastes. There are a good hundred of bars in Méribel but fanciers know it without special hints.

Méribel has not yet got the status of the best family resort, but it has everything for parents with children. The Les Saturnins nursery in the Olympic Park with various entertainments and the famous children's ski school Les Piou-Piou for kids aged 3 to 5 years with a mini-lift, whose graduates are rather assured skiers at the end of the training, amazing their parents with their skills.

Méribel is worth visiting for Valentine's Day. Not just to declare your love but to celebrate the 80th anniversary of the resorts, which falls on the 14th of February. The celebration can be a good reason for you to choose Méribel as a holiday destination. Be sure that the anniversary will be celebrated with chic, glamour, and great show program.
The atmosphere of Méribel and its spirit are more relaxed than in Courchevel but the infrastructure and leisure activities are not worse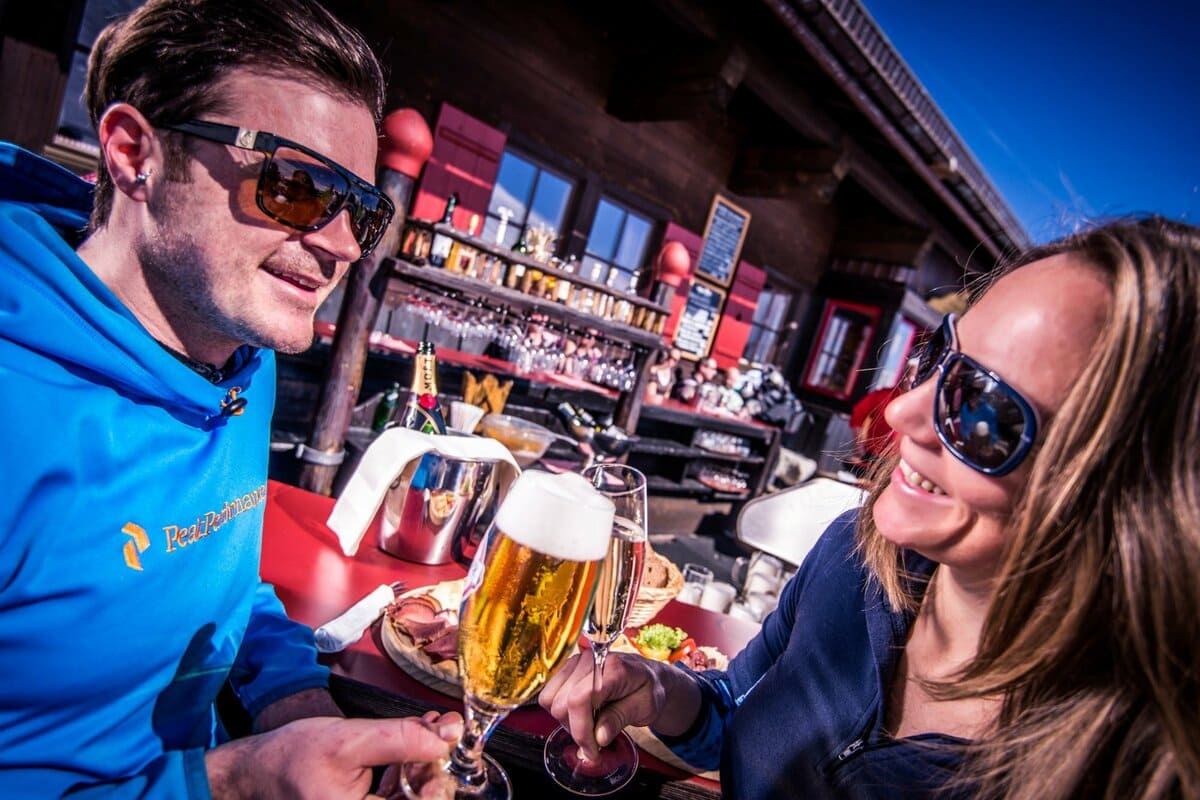 Great infrastructure
The abundance of restaurants
Children's ski schools
Chamonix
In fact, Chamonix is not simply a city, as some people think: it's in a long valley which has ten different ski resorts: four on the top and six in the valley. Nature here is really various: fields, thick forests and a large glacier where eternal winter reigns. Such a diversity did much good to the resort. The resort has all conditions for speed skiing, cross-country skiing, and snowboarding.

The Chamonix region is rather huge, while the city itself is hidden just in the middle of the valley. It can hardly be called idyllic or quiet, although most of the high-mountain chalets are really in great harmony with nature. Chamonix is not a luxury resort as many of its neighbors. It attracts fans mainly not by glamorous charm or gourmet restaurants (although there are much of all that here) but with ideal conditions for skiing and snowboarding. Those who like these sports choosing "trying" Chamonix feel like winning a gold Olympic medal.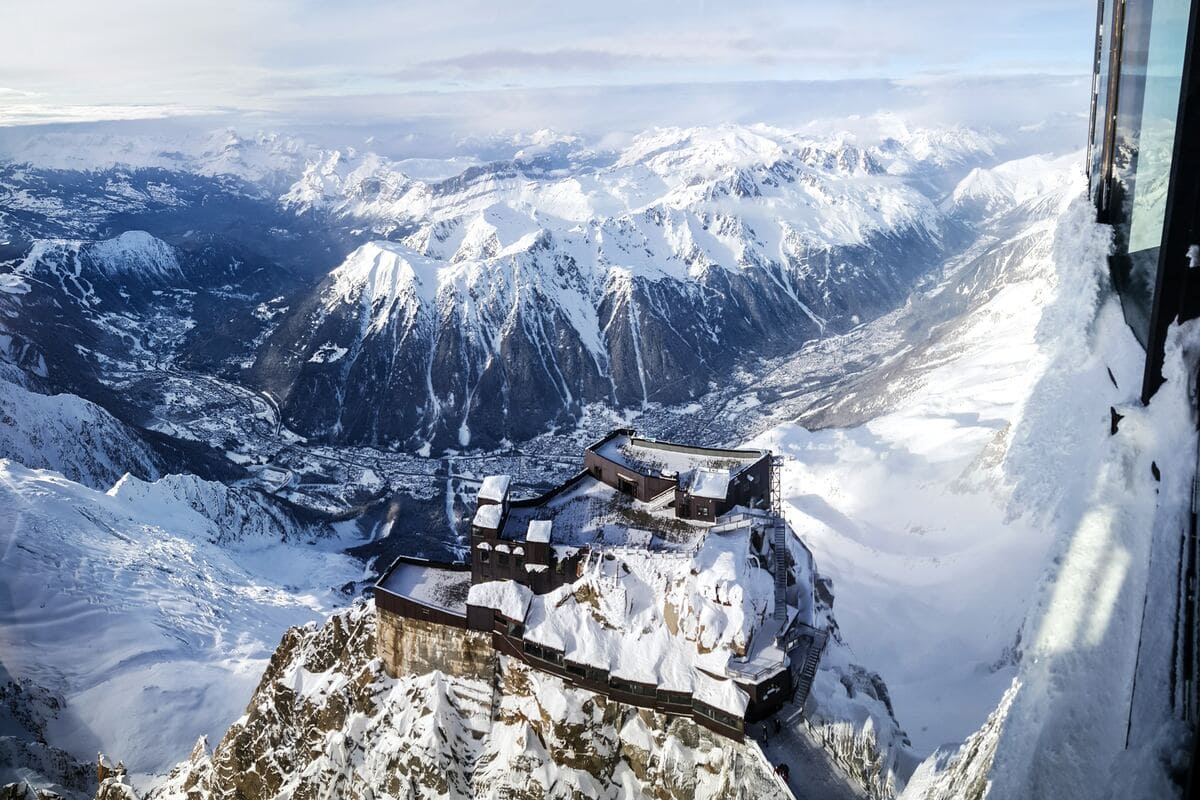 Chamonix
For skiers of all experience
Perfect conditions for skiing
The resort was chosen to host the 1924 Olympic Games and has not set the bar any lower since then. Skiers of all experience and abilities find what to do here, but more confident skiers are most fortunate. They can get an unforgettable experience in the Vallee Blanche valley: a glacier, off-piste skiing, and an incredibly difficult 17-kilometer piste. If for beginners there are only 13 pistes, there are 34 for advanced skiers and 32 for the bravest ones. Plus, a wonderful elevation difference (from 1,008 to 3,300 m), 170 km of interesting routes, fifty lifts, and six cable roads.

This is also a place to enjoy nature, although "to admire" will be a more correct word. There is breathtaking beauty around with a great variety of landscapes. No wonder of the most popular attractions for local tourists is the observation deck "Step into the Void" at the very top of the Aiguille du Midi. This is an absolutely transparent glass cube as if soaring over an abyss. A walk to the Eagle's Nest can also be thrilling. As you may have guessed by the name, this is an alpine station. You can get to it by the Montenvers tram via the highest railway in France. True mountain climbers may go hiking accompanied by an experienced guide. And a helicopter tour over Mont Blanc will be the quintessence of admiring alpine landscapes. Since we've started talking about high things, you may or even should visit the Le Panoramique restaurant on the top of Le Brévent. You will find invariably impressive views of Mont Blanc and classic French cuisine there. We recommend booking places with a good view in advance.

Try one of the longest pistes called Vallee Blanche (White Valley) (17 km long).
Chamonix is not a luxury resort. It attracts visitors by ideal conditions for skiing and snowboarding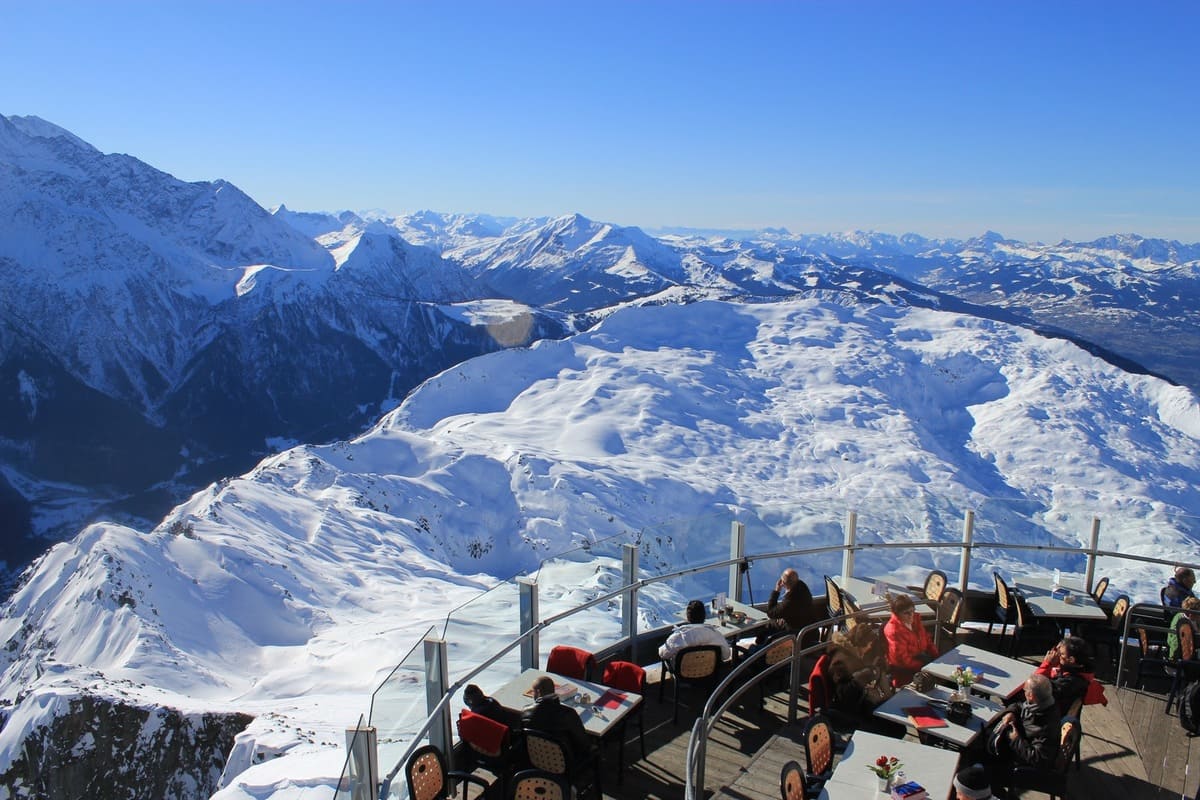 Restaurants of Chamonix
Great views