It seems that everyone knows everything about Bali. But this is only at first glance. This small plot of land in the ocean yet has much to be discovered. We speak here of what to see and what to do on this miracle island.
Lake Buyan, Bat Cave Temple, and other exotic wonders
Visiting Balinese temples is a really unusual experience. They create the mystical background of your journey, make it more mystic, attractive, and unpredictable at the same time. Temples ring the island round. This is how its residents tried to protect their earthly paradise from evil spirits.

One of the most incredible protective amulets against negative energy is Pura Tanah Lot near Denpasar. It is one of the magnificent seven marine temples and is called "Land in the sea". The temple really as if grows out of a rocky island where you can get only at low tide. It was founded in the 16th century by a Hindu brahman Dang Hyang Nirartha who spent a night on a rock during his pilgrimage. The holy man found that the beauty of this place is worthy of the sea gods and advised the local fisherman to build a sanctuary. The sunsets prove that Nirartha words were really true. You can hire a local guide who will accompany you to the island at low sea when the water withdraws uncovering stone steps.

If you are interested in mysticism, you can arrange a kind of pilgrimage. When you have some unresolved issue or doubt, a trip to the temples helps to leave out the superfluous. The island has lots of places of power except the famous Pura Tanah Lot.

The mystical Bratan temple is right in the middle of the lake with the amazing name Buyan or Uluwatu on the edge of a cliff buffeted by the noisy waves. We can't but mention the wonderful Pura Besakih built of black hardened lava on the slope of the Agung volcano. Not to forget to include Pura Goa Lawah where bats live in your schedule!
Pura Tanah Lot as if grows out of a rocky island where you can get only at low tide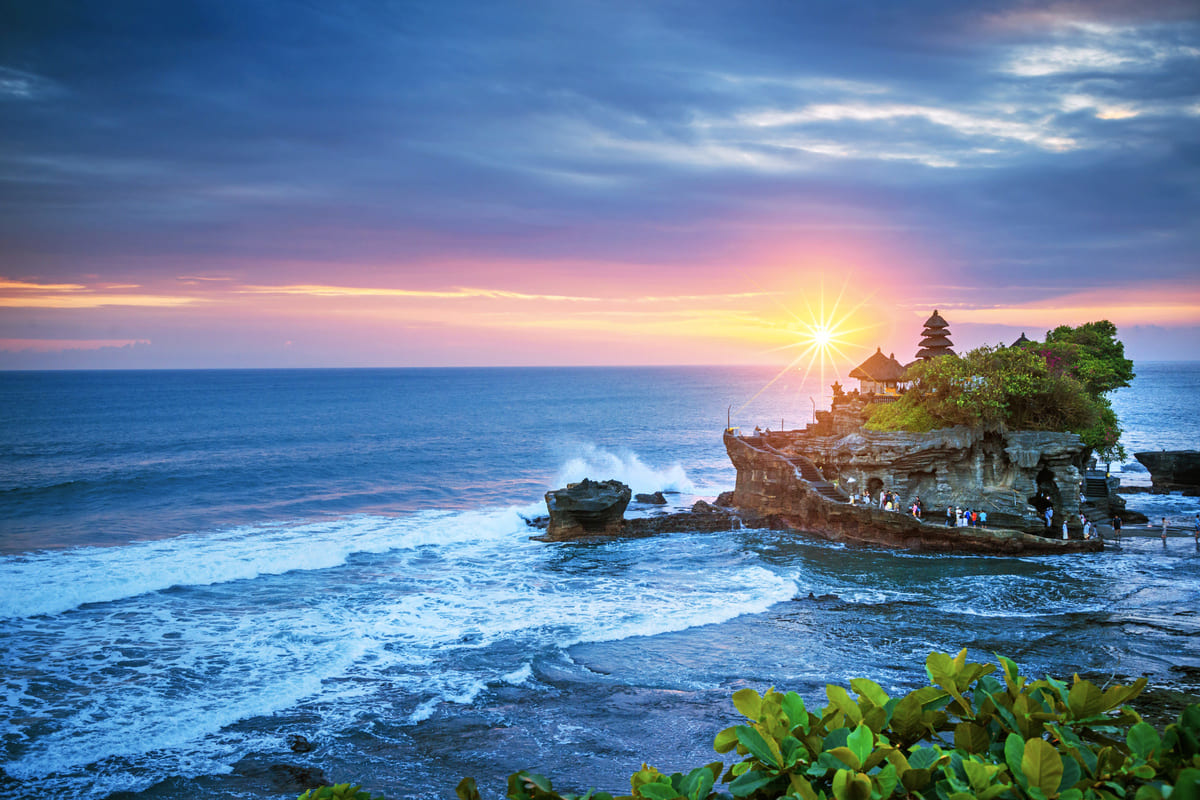 Pura Tanah Lot temple
Called "Land in the sea"
Ulun Danu Bratan Temple
Exotic Flavours in One Plate
Fresh tropical fruits, incredibly tasty breakfasts, for which you can sell your soul, the famous Bali bowls, raw-organic-healthy: all is about the island cuisine. To be fair, we should tell that this has nothing to do with traditional Balinese cuisine but rather is the product of the island's touristic upgrade, but the main thing is the result, isn't it?

Generally speaking, every meal in Bali turns into an outstanding holiday of new, unexplored, and incredibly attractive tastes. You can endlessly explore beach restaurants where they serve fish fried on coconut coals or drop into local cafes (warungs) where you can order shrimp chips. But if you want to try all the tastes of Southeast Asia, you should go to Seminyak. Stylish restaurants here offer the best tastes of Southeast Asia: Singapore chicken, Thai Tom Yam, Malaysian fish curry from perch with tomatoes, tamarind and coconut milk or beef with Indonesian spices stewed for several hours until it becomes incredibly soft. Vietnam, Cambodia, Malaysia, and India – you will find all the specialties of these countries on the menu of local restaurants. So, staying in Bali, you can take a culinary trip around the world.
Vietnam, Cambodia, Malaysia, and India – you will find all the specialties of these countries on the menu of local restaurants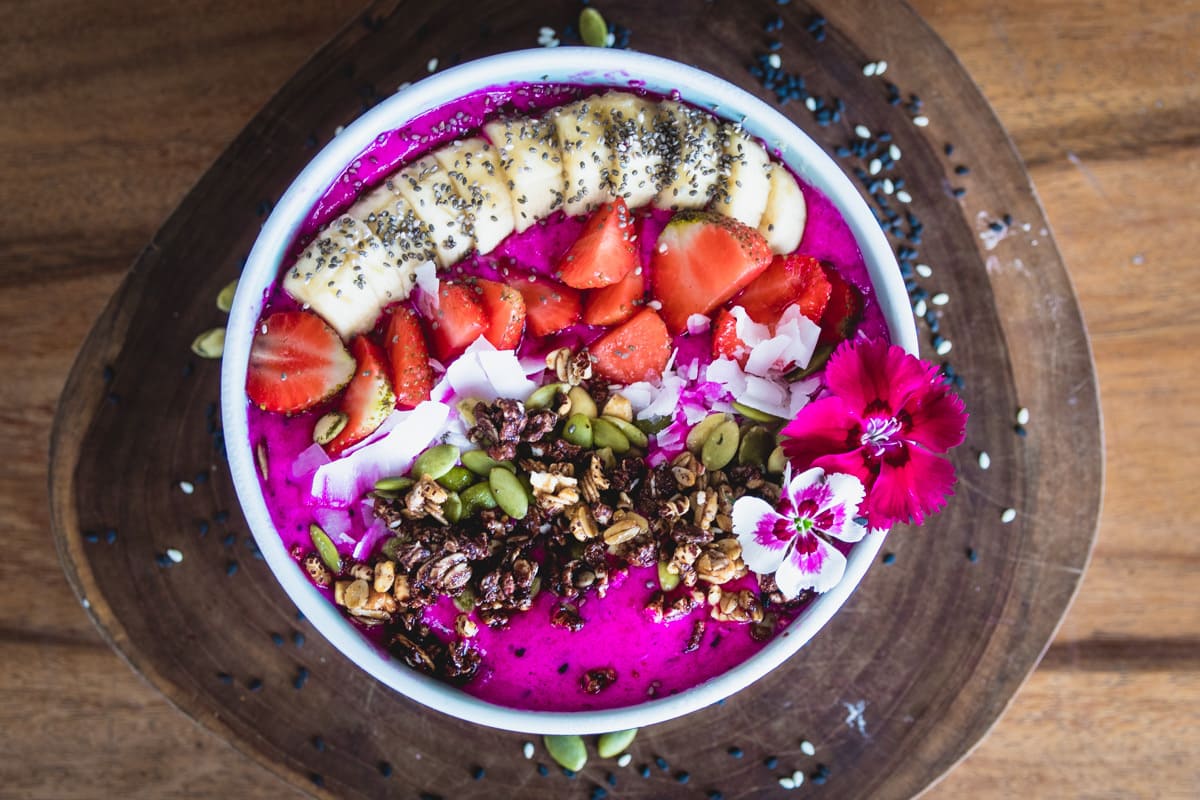 Bali bowl
Floating breakfasts
Raw-Organic-Healthy
All tastes of Asia
Beauty Rituals
The bodily pleasures on the island may show new heights to you. We really don't exaggerate. We man the power and diversity of SPAs. You can enjoy rituals of beauty, relaxation and rejuvenation both in small spas on the beach or in chain hotels, or, which is even better, right in your villa.

Specialized SPAs in the traditional Balinese style are real temples of beauty. You can knock your body into shape, balance your mind, and harmonize your soul. There are a lot of options: from traditional Balinese massages to wraps with aloe vera. You will like that before the procedure you will have the opportunity to choose a massage oil. Each your muscle, every bone, and every cell of your body will be stretched, warmed up, disassembled and reassembled. They will anoint your body with aromatic ointments and at the end of the program will serve you with energy-boosting ginger tea.
Specialized SPAs in the traditional Balinese style are real temples of beauty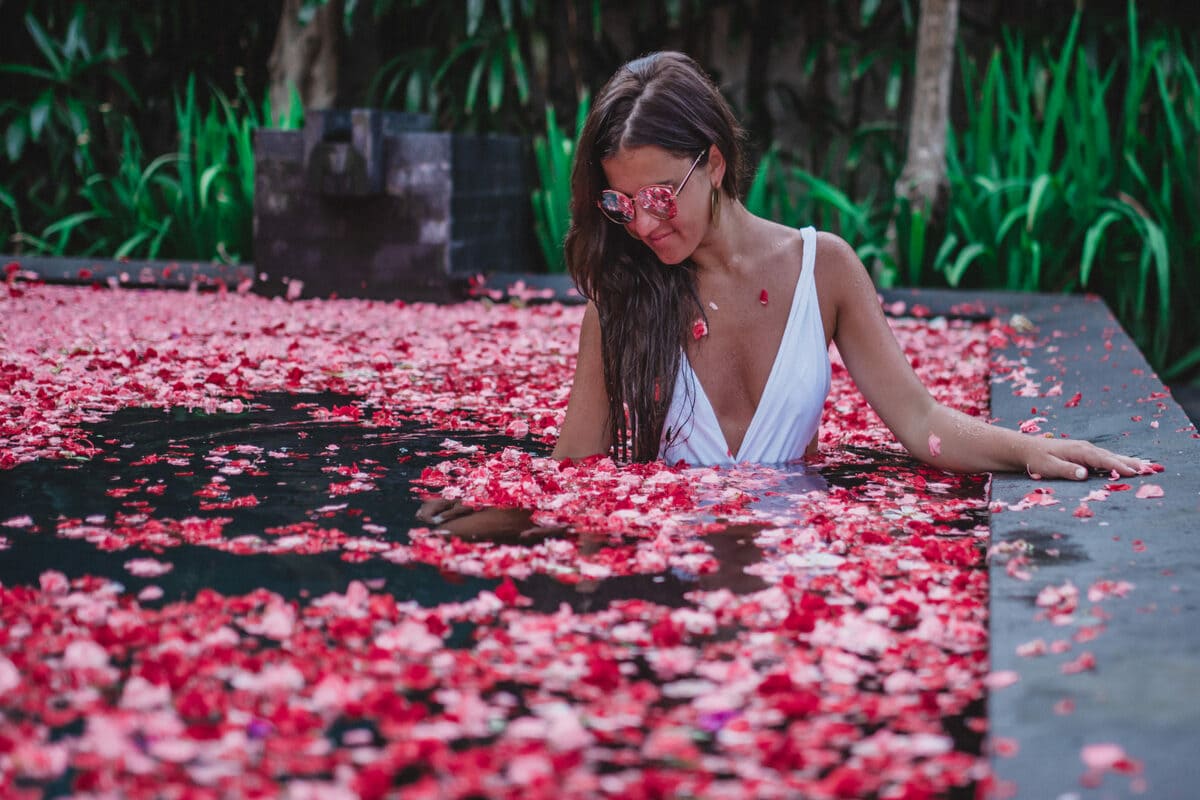 Beauty Rituals
Bali spa
Houses in Harmony with Nature
A special attraction of Bali is its houses. Traditional Balinese architecture means beauty, lightness, and openness providing excellent well-being and harmony. Almost any villa on the island is made of natural materials and literally blends into tropical nature.

Harmony with the environment is not just a beautiful phrase but is the principle of local construction. Sometimes, in more noisy areas (for example, in Seminyak), villas are of course fenced with concrete walls, but in most cases, they choose an open space for the construction. Numerous bedrooms and pavilions are grouped around the central courtyard, the decor elements of which become important for your rhythm of life and well-being.

For example, this villa PRB 0060 is immersed in tropical greenery, surrounded by waterfalls and furnished out by a tent with a large four-poster. And the PRB 0034 villa's dining area is simply a work of art. It is located on a wooden-floored terrace with a ylang-ylang roof.  And in this villa PRB 0025, you can get to a large living room through the garden by a path made of white stone passing by a pond with fish and lilies.
Almost any villa on the island is made of natural materials and literally blends into tropical nature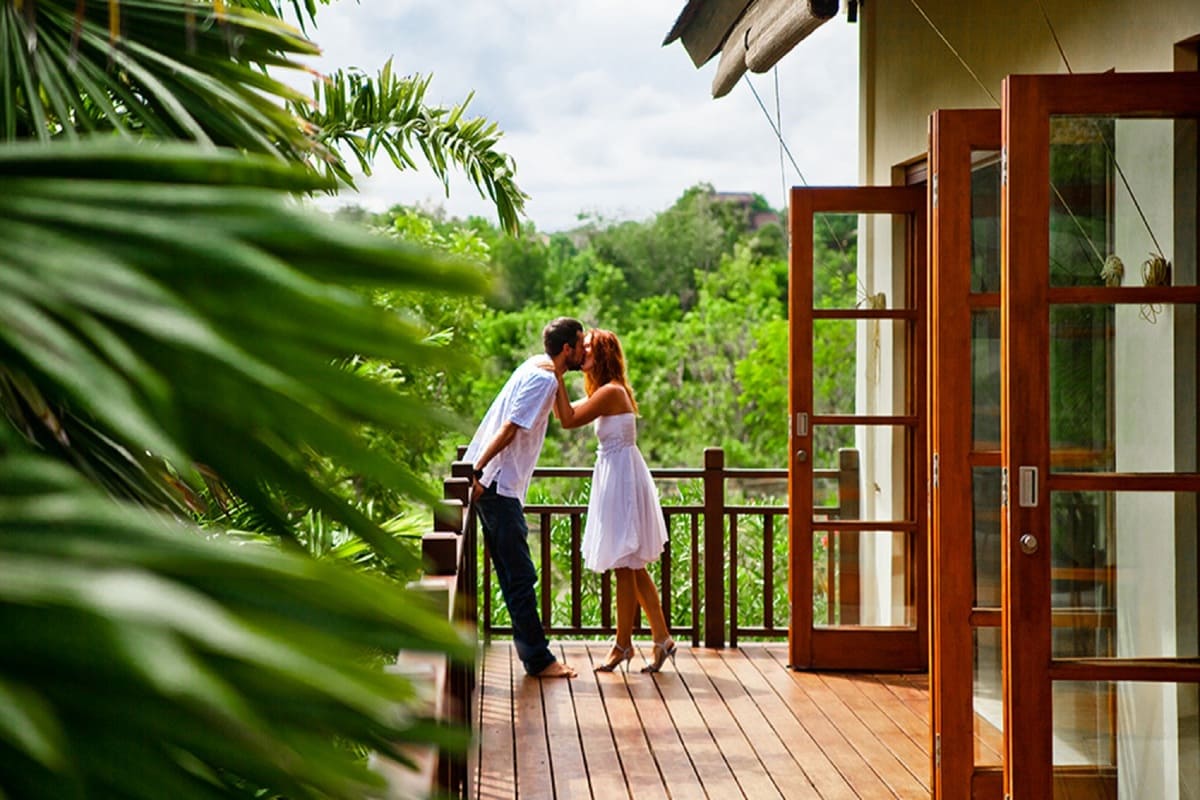 Houses in Harmony with Nature
Villa PRB 0060
Villa PRB 0034
Villa PRB 0025
Coffee Time
In addition to other wonders, the island is famous for its excellent coffee, which can be found in almost every beach town you meet on your way. Even having bought a package of coffee in some godforsaken village, you will definitely find the date of its roasting marked as only freshly roasted coffee has the best aroma and invigorating strength. And this is a common truth for locals.

For example, there are a lot of cafes in Ubud that can demonstrate the Balinese's devotion to coffee culture. They serve here extremely delicious coffee from freshly roasted beans. If you think that hot coffee in the heat is inappropriate, try cold coconut coffee. This is in Bali that the famous and most expensive coffee in the world, Luwak (with its exotic origin), is produced … Up to you, whether to try it or not.
The island is known for a perfect coffee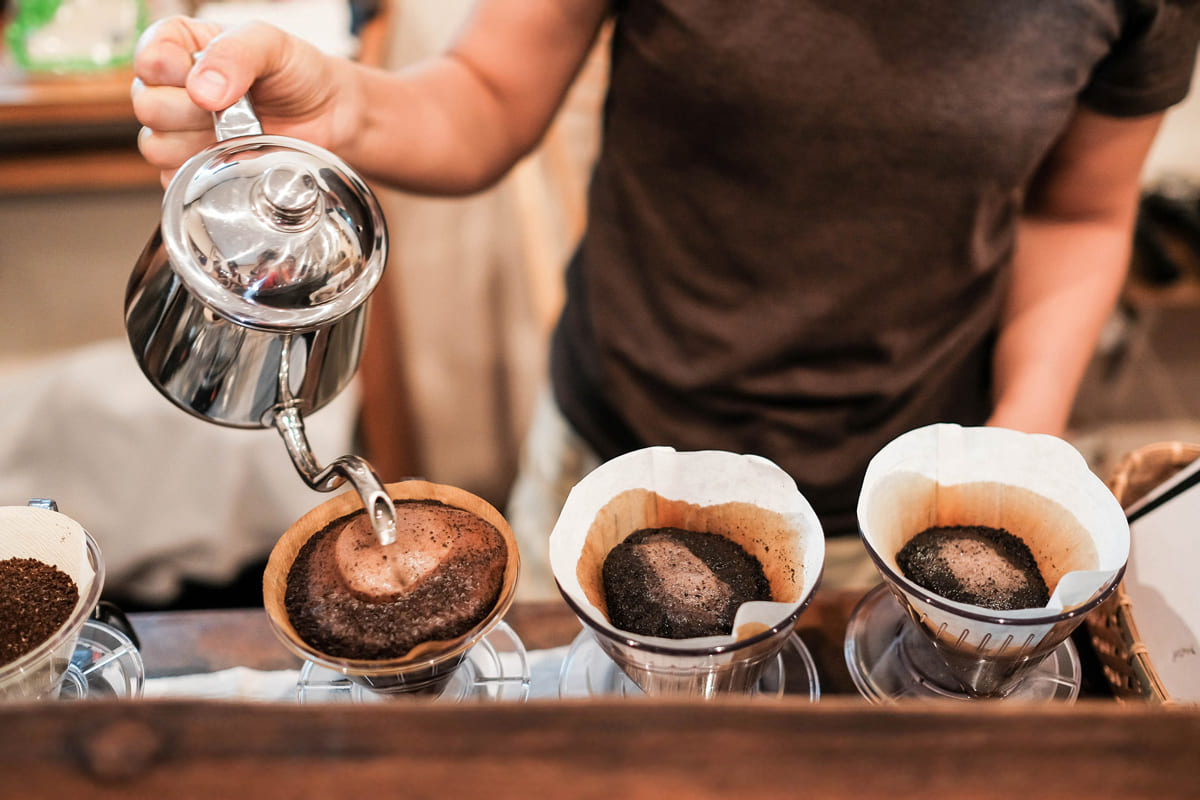 Coffee Time
The island is famous for its coffee
Ride the Waves
From the friendly waves of Kuta Beach to the strong surf in Uluwatu – Bali inspires many to at least try the magic of surfing.

Especially if you watch the true professionals masterfully riding the waves. If you would like to learn how to tame the water like a wild horse or perhaps advance your skills to the next level, then Uluwatu, one of the most wold-popular surfing spots, is waiting for you.

Located in the south of the island, Uluwatu's history started as that of a small community of surfers who lived in tiny bungalows. The city has grown to a famous resort with exquisite hotels and villas. Rent an atmospheric villa nearby, arrange private lessons, and be sure to treat yourself to banana pancakes on the beach while waiting for an idyllic sunset.

However, Uluwatu is not the only center of attraction for surfers from around the world. Kuta is best for novices and Bukit is more suitable for more experienced surfers. The place itself is quite picturesque and elite. Here you can rent a villa on a hill overlooking the ocean with a spectacular cliff view. Canggu is an area good not only for taming the waves but also for fashionable parties where very atmospheric bars and clubs are accompanied by the beauty of rice fields and black sand beaches.
Bali inspires many to at least try the magic of surfing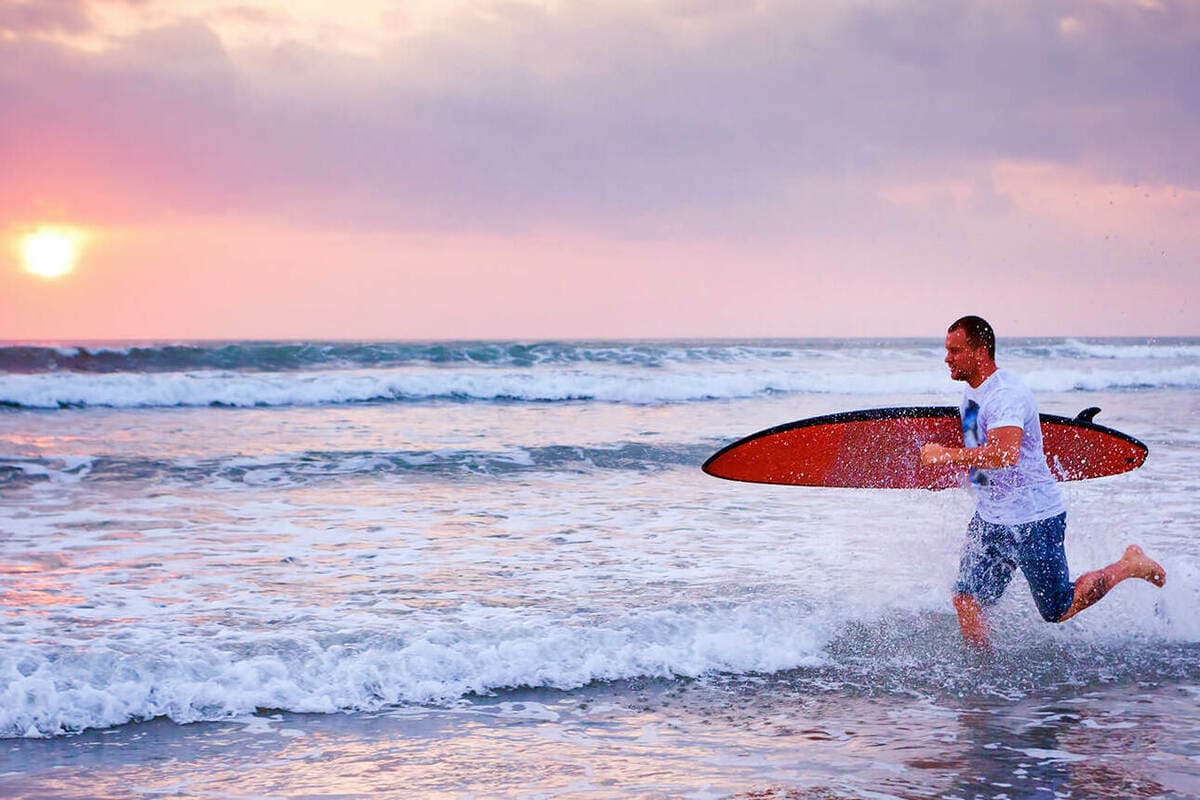 Ride the waves