Even the most experienced travelers agree that Samui is one of the best islands of Thailand to have a relaxing and comfortable holiday. Due to the fact that up to the XX century Samui was isolated and did not often contact with the mainland, the local nature was preserved very close to the state of nature. There was not even a road here until the 70s of the last century! But today the island has good infrastructure and is considered the second most popular tourist destination in Thailand. White beaches, bright corals, gentle lagoons, picturesque waterfalls, coconuts everywhere, and crystal clear waves are valid reasons for this.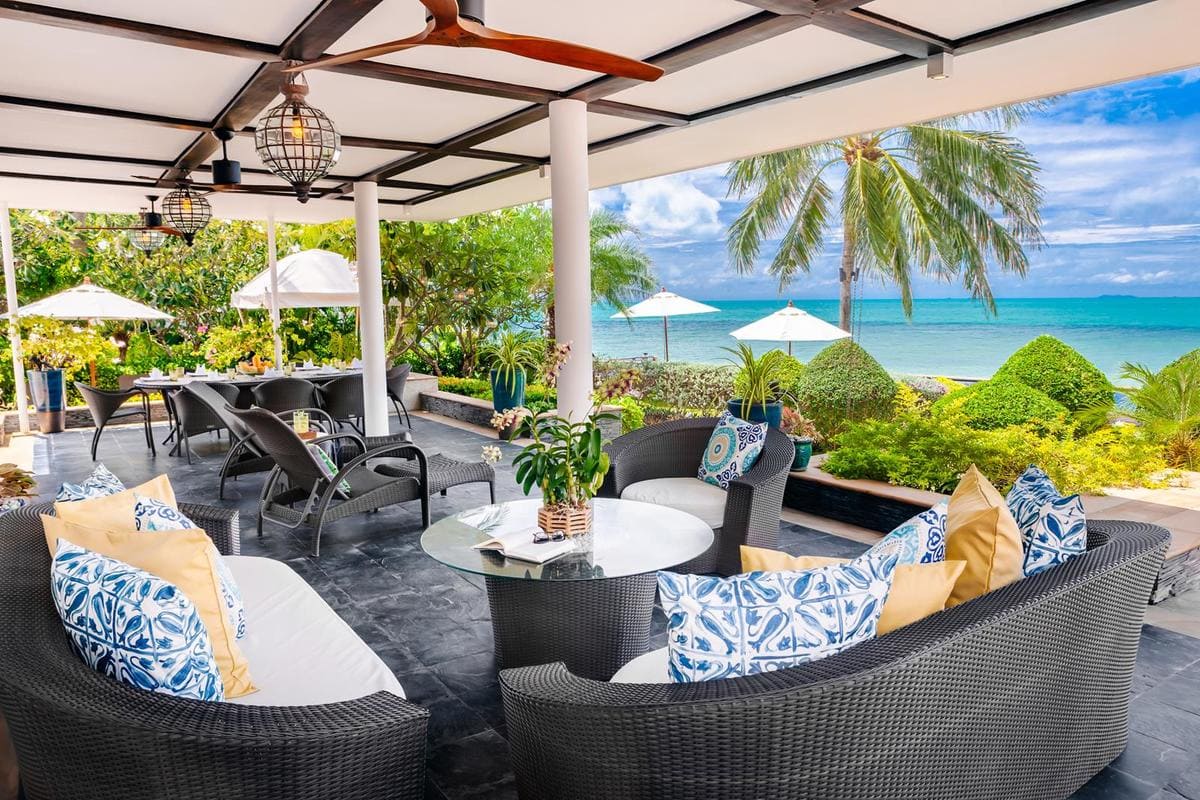 This villa is just the embodiment of tropical luxury and diversity Samui is famous for. It has some special powers: everyone who crosses its threshold immediately feels relaxes and homey. Everything here is planned to make life comfortable life. Doesn't matter whether you want seclusion and privacy, gather the whole large family together or arrange a big party on a private beach: here you will find everything you need to spend time in the company of all kinds of people so that everyone is happy.

A spacious indoor living room and a huge terrace, four separate pavilions with bedrooms, dining areas, verandas, and terraces create the very first impression of not just one villa but a whole small resort town with everything you need for a high-quality holiday.
The villa is very roomy. Four separate residential pavilions of the villa overlook the common patio, which is the center of this small universe. You can rent either the entire villa or one or several separate pavilions arranged so as to ensure the privacy of each guest. 

Ten people can comfortably take seats in the vast dining area. A large designer dining table, for which its creator received an award (you will understand why as soon as you sit at it) will allow you to bring together all your large company. A barbecue area overlooking the sea, jacuzzi, and wine cellar (of course, full of the world's best wines) are nearby: everything is designed to have memorable lunches and dinners together. 

The villa has a private chef, Khun-O, a real master of cooking and serving the most luxurious Asian dishes, who can easily compete with the best Thai restaurants. So get ready to have something truly special every evening. However, there is a risk that you simply won't want to leave the villa as you will have the best restaurant at home. But is it a disadvantage?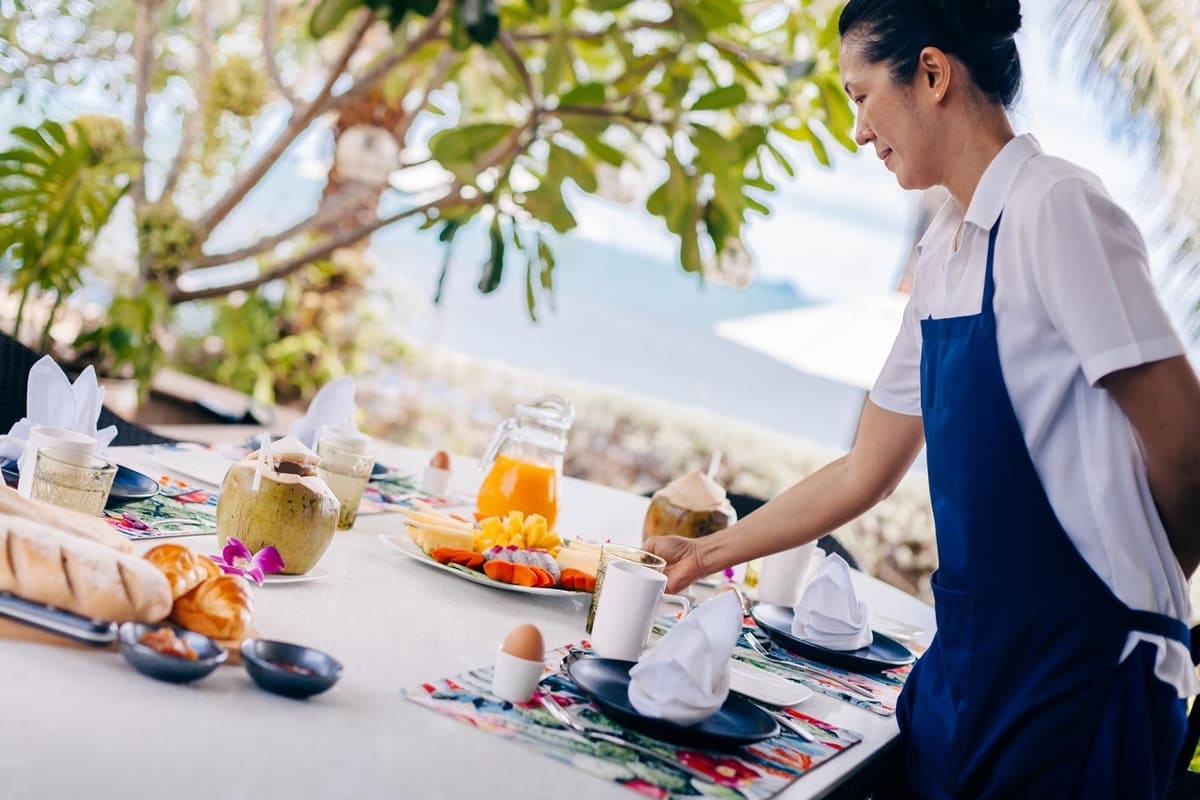 Let's move to the bedrooms. There are five of them in the villa, each with a large ensuite bathroom combining the natural textures of granite, sandstone, and terrazzo. All bedrooms are full of light, designed in cool colours and have air conditioning, comfortable mattresses, and the best bed linen, so they are really comfortable to stay and have a good sleep. There is also a flat-screen TV, a desk, and a bookcase in the bedrooms. If you want to seclude and move away a bit from the beauty of the local scenery, you can simply stay in the room. You will definitely find what to do there.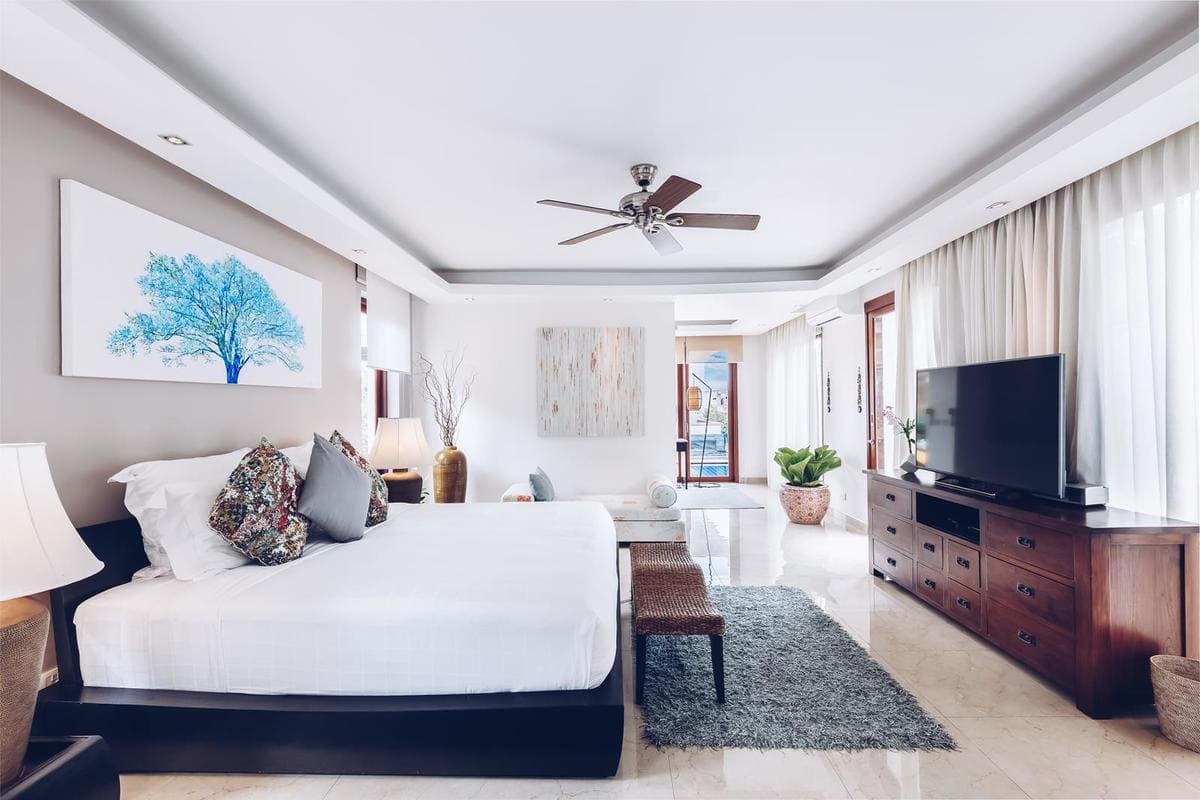 But, of course, the main goal of your stay at the villa is the sea. You are only 25 meters away from it. To make each your meeting with the sea comfortable, you have your own private beach. Stroll along with it for a few minutes and you will find local restaurants, small bars, and shops. If you do not want to swim in the open water, a personal 25-meter swimming pool overlooking the ocean is at your service. We bet that it is here that you will spend most of your time.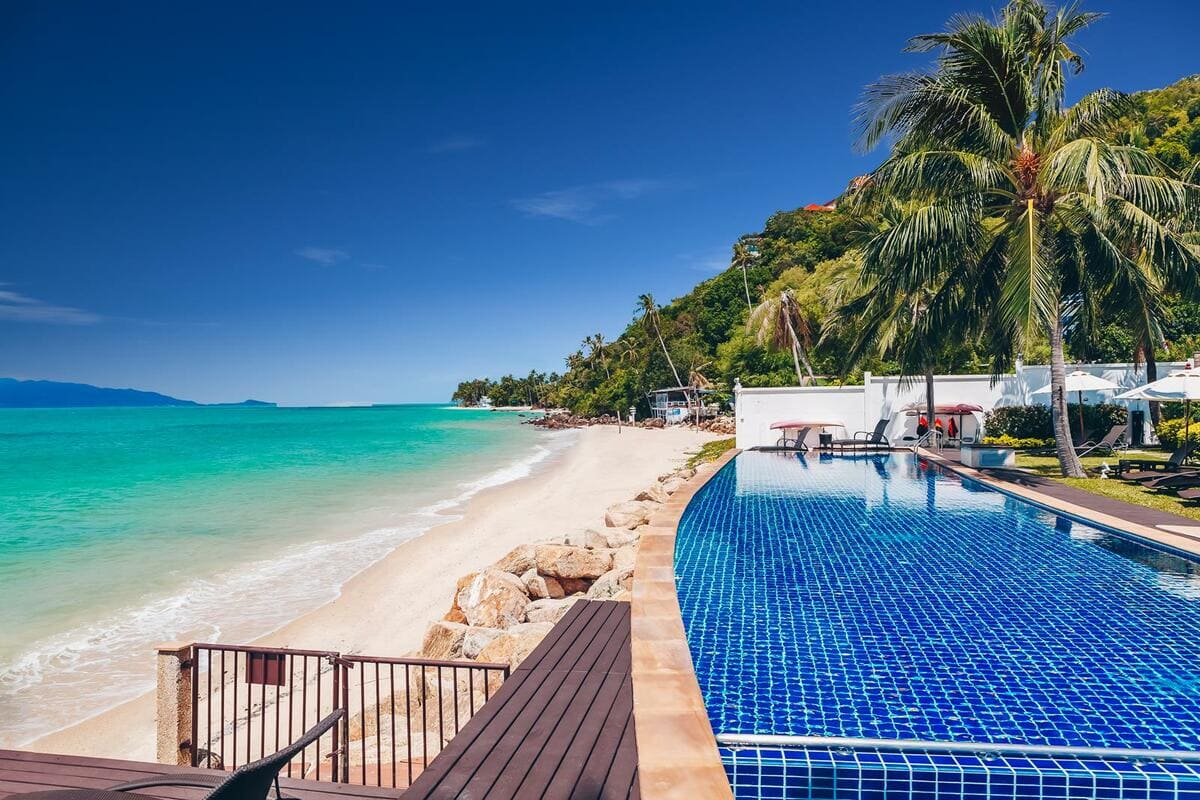 What else can you do besides meeting sunsets at the seaside and enjoying sumptuous lunches and dinners from the chef? 

Have a massage. Fortunately, you won't have to go far: there is a spa in the villa. If you want to relax in the open air, the massage therapist will be waiting for you on the terrace, where there is a massage sala. 

Keep fit. Those who do not want to get out of the regime even when on vacation, will find here a fully-featured gym equipped with the Life Cycle premium fitness fittings, including cross-trainers, a treadmill, an exercise bike, and a dumbbell area.

You can keep fit even without using the equipment or leaving the villa. Just play ping-pong or billiards: you can find the tables for them in the open patio. 

There is a special game room for group entertainment. You will find many board games there including table football. It's just impossible to get bored here: if you wish, you can arrange championships every evening, each time in different games. 

We will never tire of repeating that this spacious villa offers dozens of leisure options, both passive and active. But if suddenly you get a wish to leave your personal paradise for a few hours, Santiburi Golf Club is five minutes drive from the villa and the famous Fisherman's Village with many old Chinese trading houses and 19th-20th-century mansions mixed with modern restaurants, bars, and fashion stores is just seven minutes far.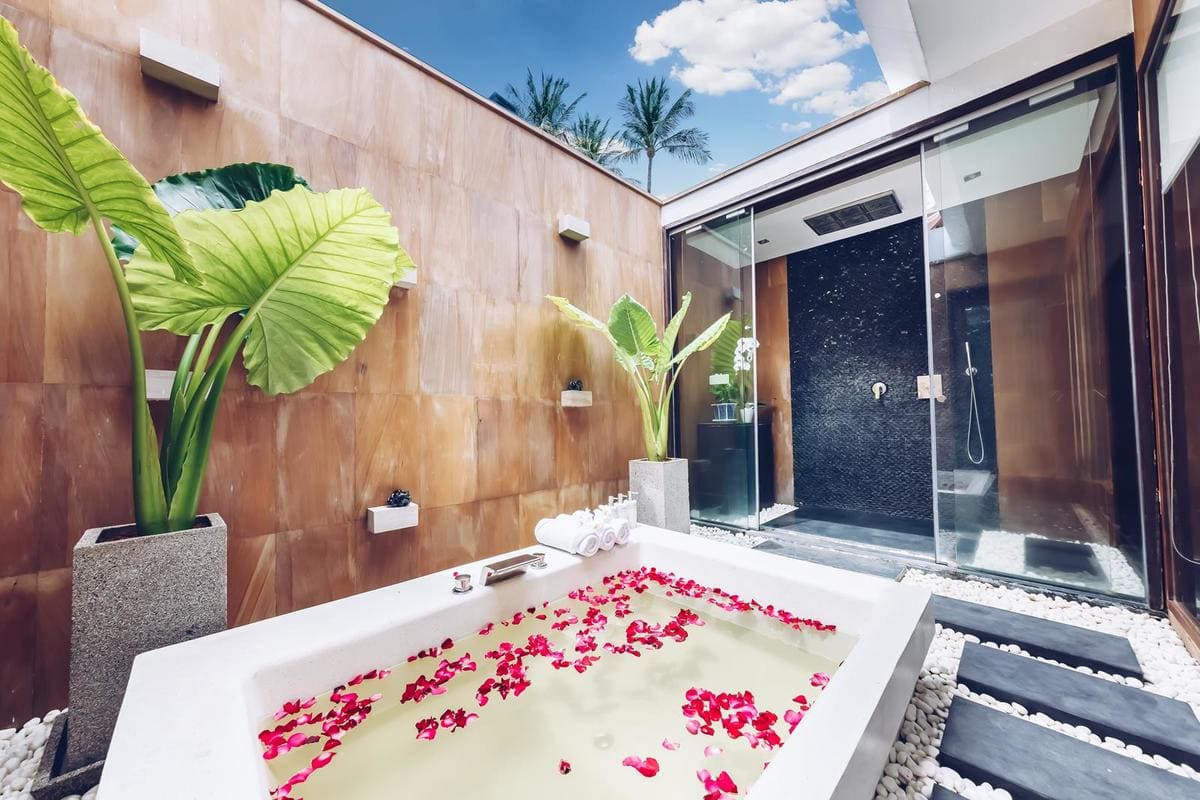 If you want even more drive, go to posh Chaweng – the most popular beach of the island and the center of its social and cultural life. All the loudest parties of Samui are held here on the white-sanded beach, accompanied by the sound of the sea and fireworks. Do you know what is the most pleasant thing? Tired of the noise of Chaweng, you can at any time return to your quiet and luxurious villa, which is only ten minutes far from the active center but always waiting for you with its peace and comfort. 

The villa has an incredibly convenient location. It is easy to get here from the airport: we provide a free transfer and the way will take only 15 minutes. Probably, this will be the biggest distance you will have to cover on the island since all the best places in Koh Samui are just a few minutes drive from the villa. At the same time, the villa is located in a quiet and peaceful place, where you will not be disturbed by any noise except for the sound of the sea and singing of tropical birds.