Luxurious infinity pools are view pools merging with the horizon, which are undoubtedly the zest of a beautiful and memorable vacation.
The photogenic Bali seems to be just made for them.

Just imagine how great it is to dive into the infinity pool from the first minutes of your vacation. Add magnificent sunsets, an iced cocktail, and an awesome playlist to that and you will get your personal paradise. Enjoy our selection of the most beautiful villas with infinity pools in Bali for inspiration.
The Most Photogenic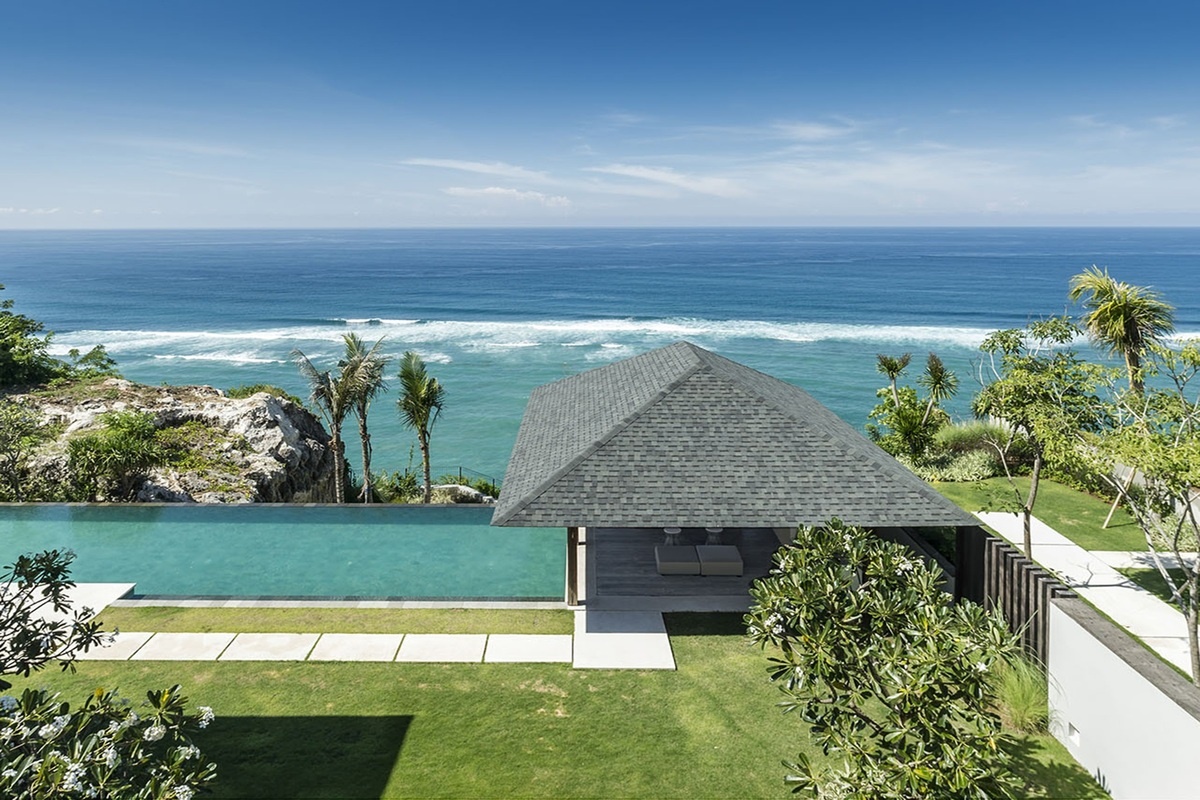 Where: Bukit

Stunning views of the Indian Ocean open from the top of the picturesque hill, where the villa is located. The famous Pandawa white-sanded beach, where you can go kayaking, surfing or just swimming, is just two kilometers away. But most importantly, we are just sure that you will fall in love at first sight with a large infinity pool! It is just a center of attraction in a separate territory, around which vacation life is pulsing. It is great to dive into it in the morning, after a cup of espresso, during the hot day, and in the evening after sunset, and then enjoy a cocktail in an air-conditioned gazebo with sofas. 

Thanks to the large windows in the villa bedrooms you can enjoy bright tropical dawns and sunsets, enjoy the sea breeze and the delicate odor of exotic plants without even getting out of bed. 

There is a dining area, a kitchen and a bar near the pool.  You can have a complete relax day with "water procedures", arrange a pool party or a romantic candlelight dinner. It is better to entrust cooking to the chef. Everything in this villa is arranged so that you would be able to enjoy the Zen atmosphere of the island, the sea, and palm trees from dawn to dusk, and, lying in the pool and listening to cicadas admire the ocean and low-hanging stars, which you can find only in the tropics.
Your Five-Star Resort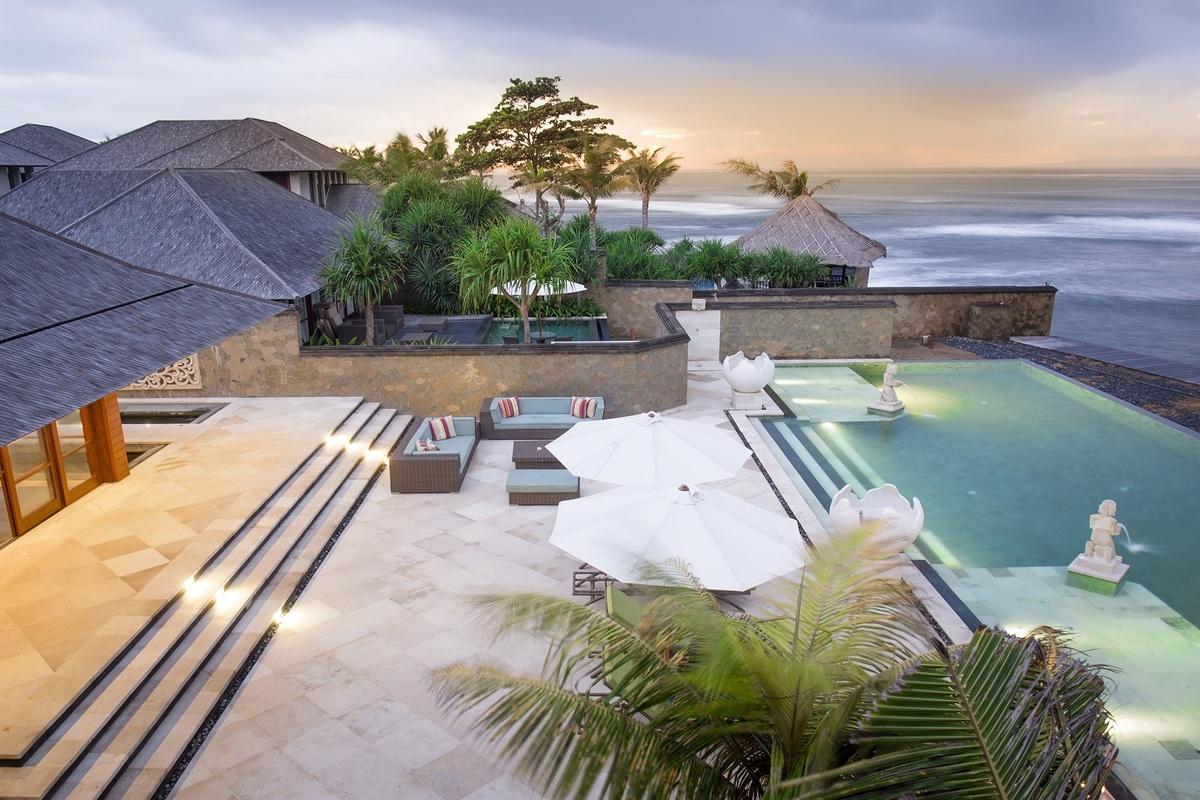 Where: Ketewel

This 18-meter infinity pool decorated with Balinese statutes overlooks Lembongan Island. The villa itself is just a few steps from Pabean Beach. Design, comfort, and space organization look like you are in a five-star resort. Just a little detailing: it is your personal five-store resort. 

This means that you will have a personal gardener, a pool cleaner, a butler, a chef, and even your own gym, billiards, and a TV-room with an extensive movie library, and other entertainments. 

No matter whether you plunge into the sunny afternoon after a massage or swim while admiring the bright night sky of Ketewel, the infinity pool will give you a lot of unforgettable impressions. By the way, the villa does not end by the infinity pool. There are private pools with lounges at the two of the five bedrooms. 

The three-level villa with five bedrooms is a part of an elite complex (and if you wish, you can get 9 bedrooms at once). Well, isn't it a wonderful place to celebrate any important event: be it a birthday, your wedding anniversary, or a jubilee. 

All the most interesting things to get together and celebrate a special date are right in the garden near the pool. The covered dining area with a bar will be a nice place for a fun feast or a light cocktail party. 
Your Personal Paradise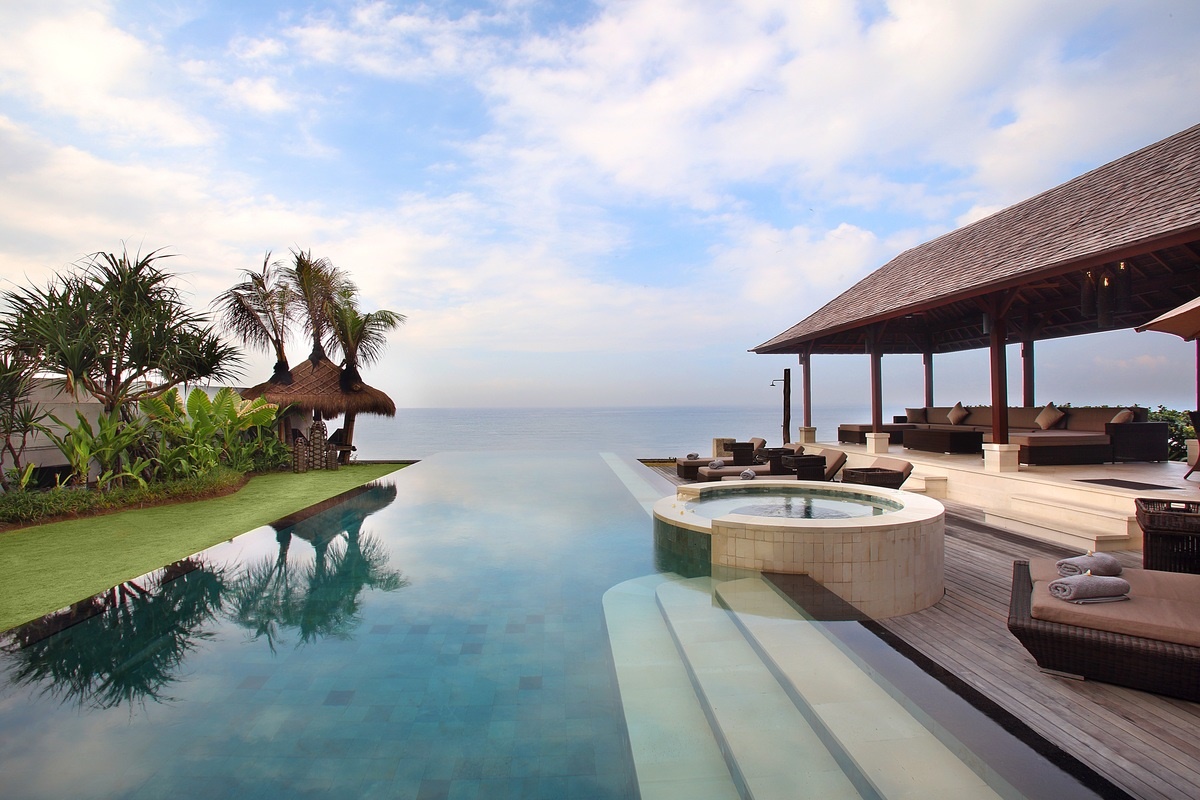 Where: Negari

Located in the small town of Negari, this wonderful villa is really impressive with its minimalistic and at the same time luxurious interiors.  Open planning allows turquoise sea waves to be a lively picture for you 24 hours. The villa is surrounded by a garden from all sides, and the beach is just a few meters away. 

The only question that will bother you is: where to sunbathe? On exotic black sand or near the pool on a deck chair? A private 15-meter infinity basin with a jacuzzi will allow you to change recreation areas throughout the day. You can enjoy a refreshing cocktail in a pearl bath or dive into the pool while listening to pleasant music at sunset. This, of course, is the best place to relax, with an adjacent playground, a dining room, a barbecue area and a lounge where you can have dinner while admiring the sea. 

The villa is suitable for a big family. Thanks to its layout and size, everyone will have their own space. It is also a great place for weddings. You will have four bedrooms, a living room, a gym, a professional kitchen and plenty of places to relax at your disposal. You cannot but agree that the pool area with a jacuzzi is simply created for wedding parties. After the celebration, you can put on your best glamorous outfit and go out to Sanur to have fun. Although who wants to leave such a villa? 
Ideal Tropical Comfort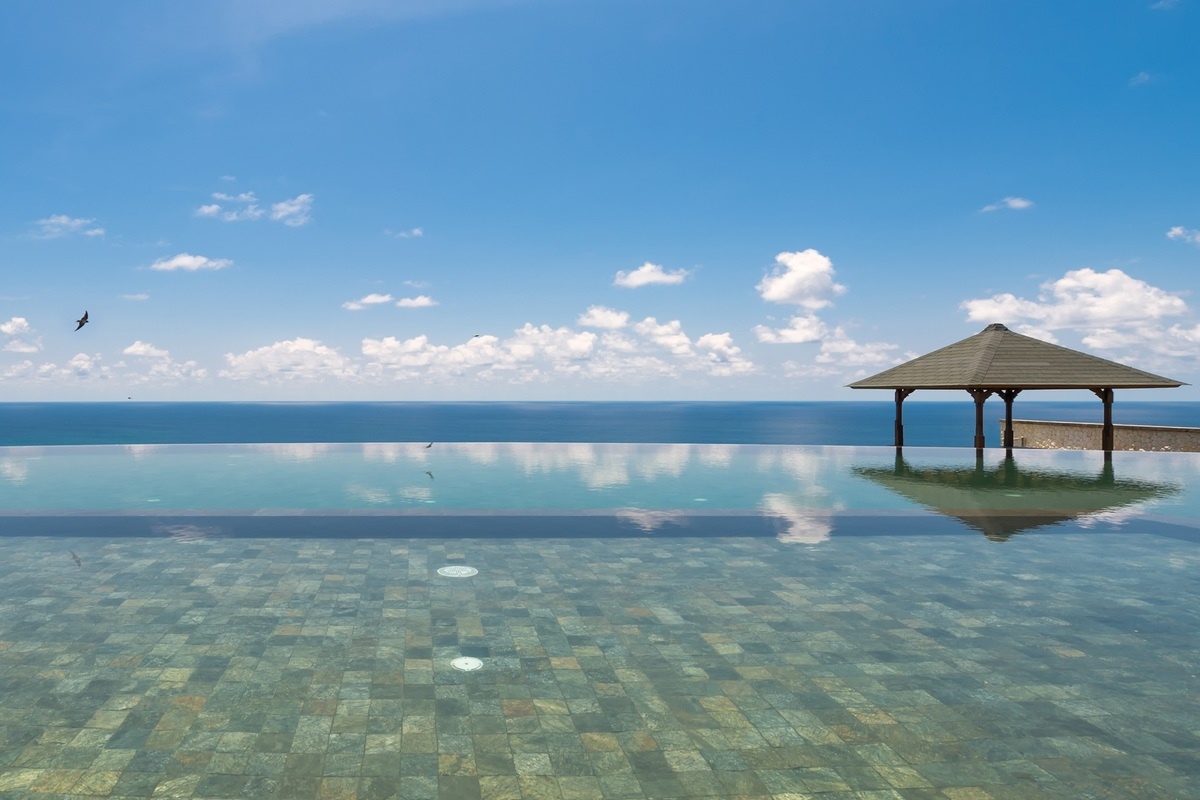 Where: Bukit

This cozy villa can be described as the one filled with sun and air. Located high on a cliff overlooking the ocean, it is buried in greenery creating the feeling of an idyllic and secluded shelter. 

Whether you are sunbathing on the pool terrace early in the morning, taking a nap in the living room or having lunch outside, you will always feel fresh sea wind. It is really pleasant when you are in hot tropics. There are tennis and squash courts, a gym, a spa, a game room for children and much more for your rest. The two-level villa has six bedrooms, a spacious dining room, a dining terrace with a large table, and a 20-meter infinity pool, where you can really swim and not just splash. Although a shallow area for children is also separated there. 

There is even a stone amphitheater for national Balinese dances! The villa is a part of a large complex with professional staff. If you rent the whole complex, you can accommodate up to 400 guests (In case of some great party). The villa is also a great place for family rest: two suites are especially suitable for rest with children as their sliding doors easily zone the space into "adult area" and the games room.  If you wish to explore the surrounding area, Uluwatu Temple, Pandava Beach, restaurants, and bars are very close. Whatever you do, try to return home by the sunset reflected in the fiery path in the blue mirror of the infinity pool. 
Endless Horizon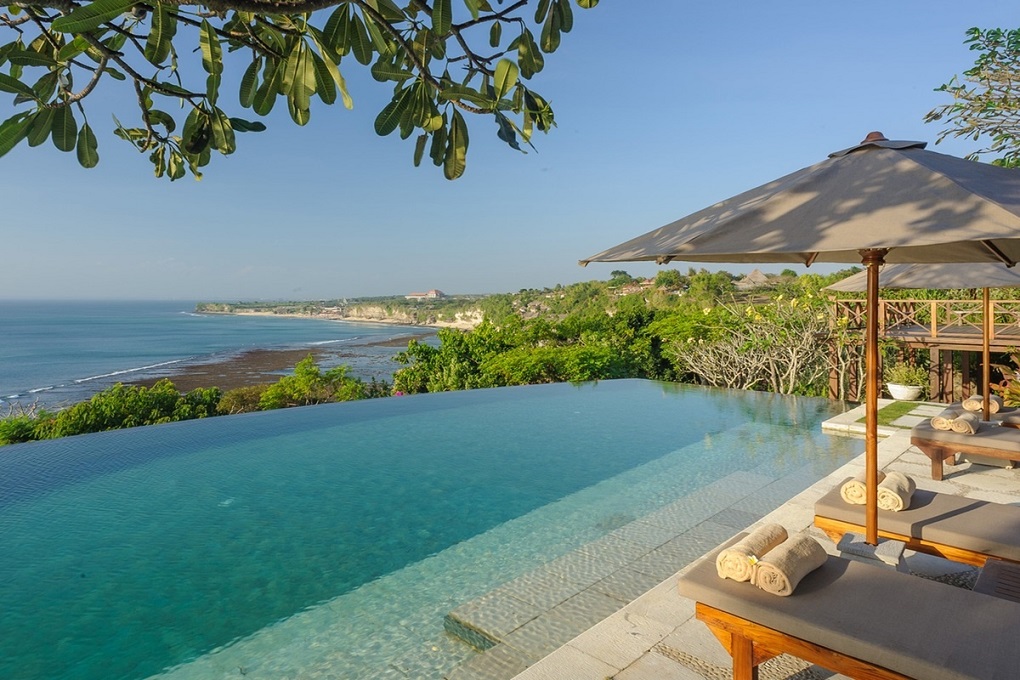 Where: Uluwatu

The villa is located 50 meters above sea level one can see Mount Bromo on the island of Java on a clear day. This magnificent view and skyline merge in the pool into a beautiful infinity. 

This is not just a villa but rather a private complex consisting of two buildings with a swimming pool each: the infinity pol we have already mentioned and another one near the main pavilion. Five bedrooms (with the main one occupying a whole level), gazebos, a dining room, a professional kitchen where the chef can fulfill any of your gastronomic whimsy, a tennis court, a children's area, a gym, and picturesque ponds with lilies. You will surely like the terrace as if specially created for cocktails and private dinners under the stars… 

In the office, made in the old Chinese style, You will find everything for comfortable work in the office decorated in the ancient Chinese style, if suddenly you need it. Children will not be bored either as there is a lawn, a room, and a playground for them. There is a thatched-roof gazebo near the pool where you can do yoga or just relax at noon. When night falls, turn on your favorite melody and enjoy the majestic starry sky and quiet water surface.
Everyone will find rest after one's heart in Bali. Someone is looking for unity with nature, others – for parties until dawn, cool surfing or respectable golf, or maybe just snow-white sand. In any case, the impressive infinity pool will make your vacation more charming and provides you with a couple of dozen megabytes of stunning photos.